Nano Digest: V24 release, new Community Programme members, growing adoption, and more!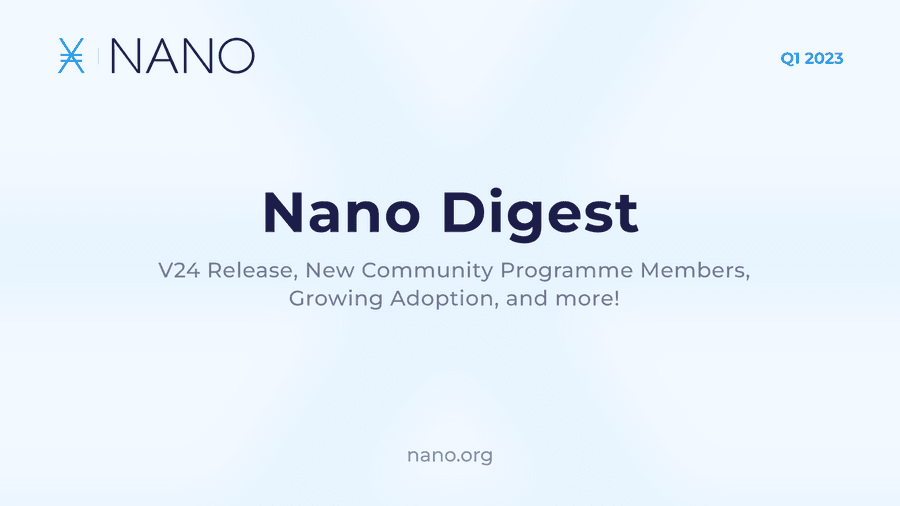 With a new year started and the first quarter out of the way in which V24 Siglos of the nano node software was released, we also started off this new year with a lot of new faces in our Community Program, amazing initiatives and events from our community, a full overview of our past year in nano, and a lot more. Let's dive in!


V24 released, V25 on the way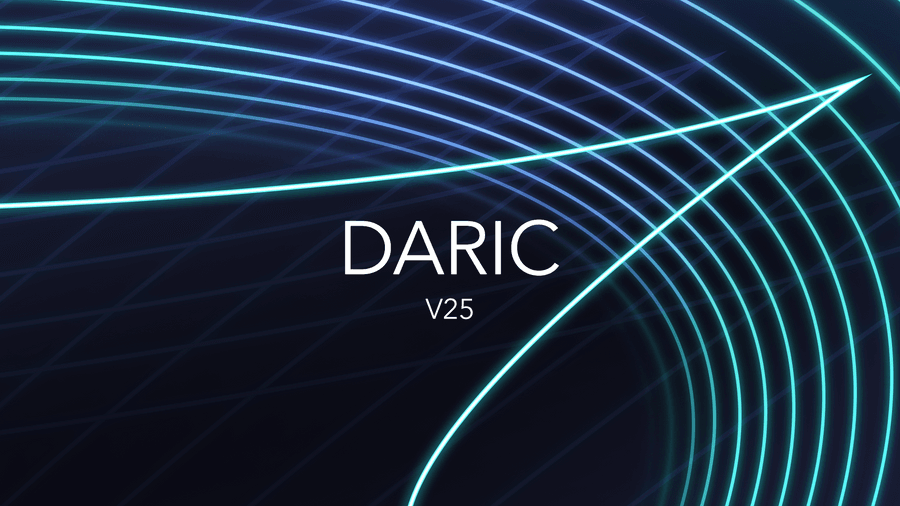 V24 & V25
In our last digest, we announced final testing for V24 Siglos had started. Since then, V24 Siglos has been released and is now live on the network!

We are now quickly marching on to a V25 release in the upcoming weeks which, unlike V24, we encourage to be installed by exchanges as well. This major release will see the ascending bootstrapper fully implemented as well as other changes which we look forward to sharing very soon.
Forum Deprecation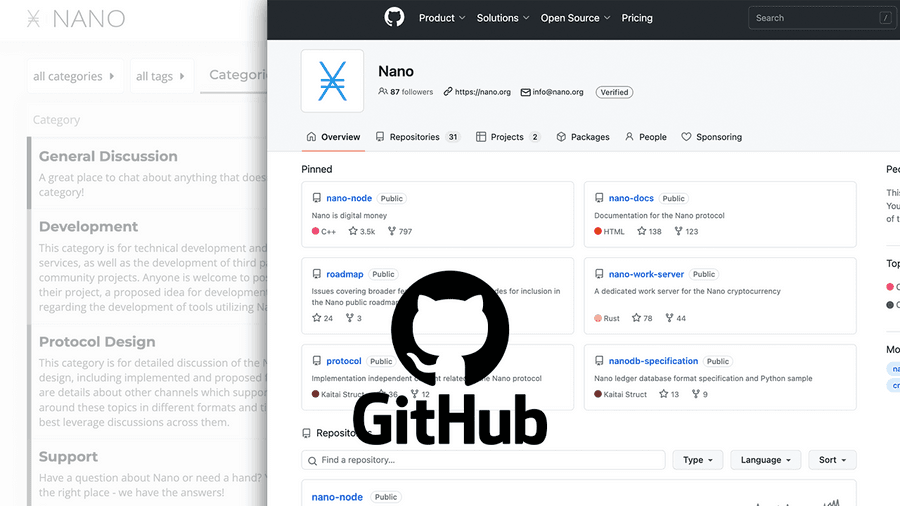 As part of our ongoing efforts to streamline our online presence, we will be deprecating the forum.nano.org on the 28th of April.
Going forward, we will be moving our discussions to Github, which has become increasingly popular within the nano community. We believe this move will allow for more active participation and engagement among our users, as well as make it easier to collaborate and share ideas.


Year in Review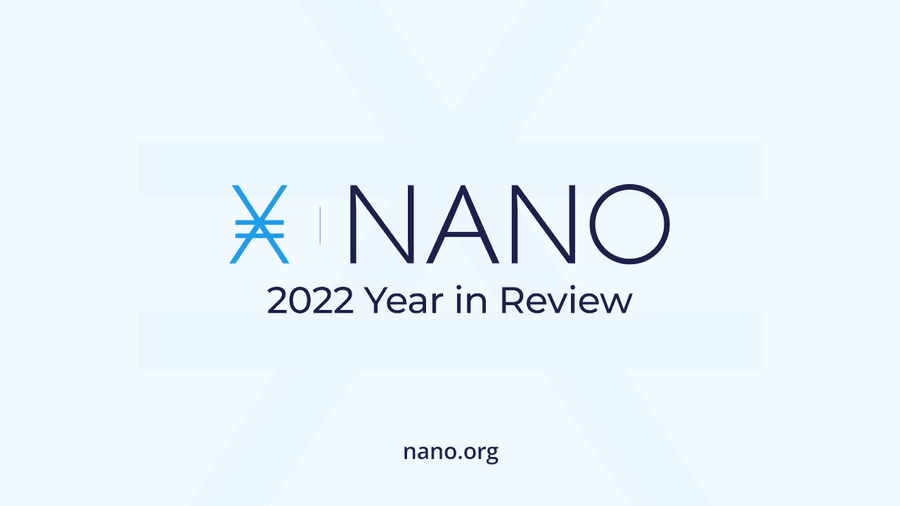 2022 was a turbulent year in the crypto space, but an exciting year for nano and the nano community! We released our Year in Review 2022 so you can look back at the great things that have happened with nano in the past year! Check it out here.


Having listened to community feedback on news & updates being scattered throughout the ecosystem and in the aim of making our communication of news smoother, we are in the process of building a new dynamic resource to show the latest events, listings, media, articles and more. This way you'll be able to keep up to date with everything nano and easily see all the things that have happened in the last week, month, quarter and even year!
Events & media
An important facet of the Nano Foundation is educating and spreading awareness. This is done in many different ways, such as hosting or participating in events, and through media. Here's some great events & media from the first quarter of 2023.

Aneena Alexander on "Blockchain Technology and its Applications – An Implementation Perspective" event, organised by the Government College of Engineering in Erode India.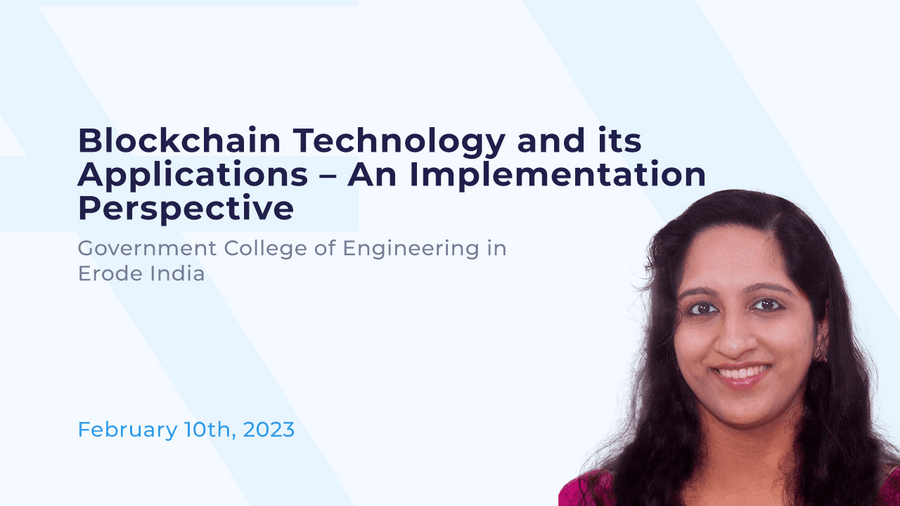 Awareness of nano is spreading around the globe. One of the countries where nano has a lot of potential is India. That's why the "Blockchain Technology and its Applications – An Implementation Perspective " event, organised by the Government College of Engineering in Erode India, requested Community Lead Aneena Alexander to host a session on "Cryptocurrencies and NFTs" on the 10th of February! A great opportunity for many students to learn about nano!


George Coxon as judge on the TechStars Startup Weekend Global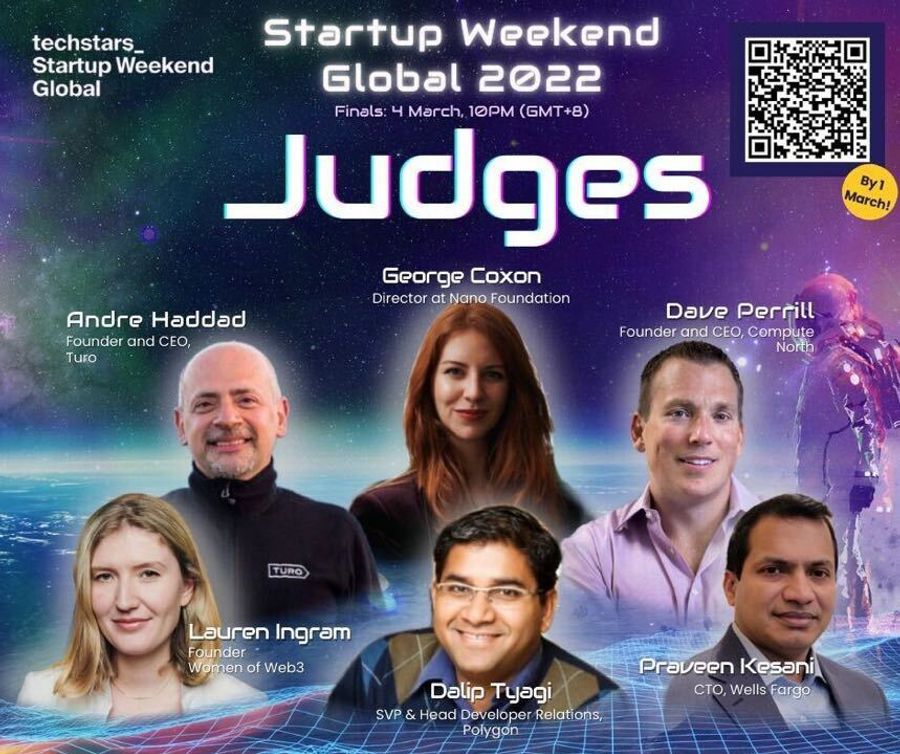 It's important for innovators and entrepreneurs to have a platform where they can work together, showcase their ideas and get feedback from professionals in the field. One of the biggest events that makes this possible is TechStars Startup Weekend Global. This year, the web3 edition of the insanely large hackathon, with George Coxon as judge, had more than 1,500 participants coming in from more than 117 different countries!

"Building the nano ecosystem together" Twitter Space with NOWNodes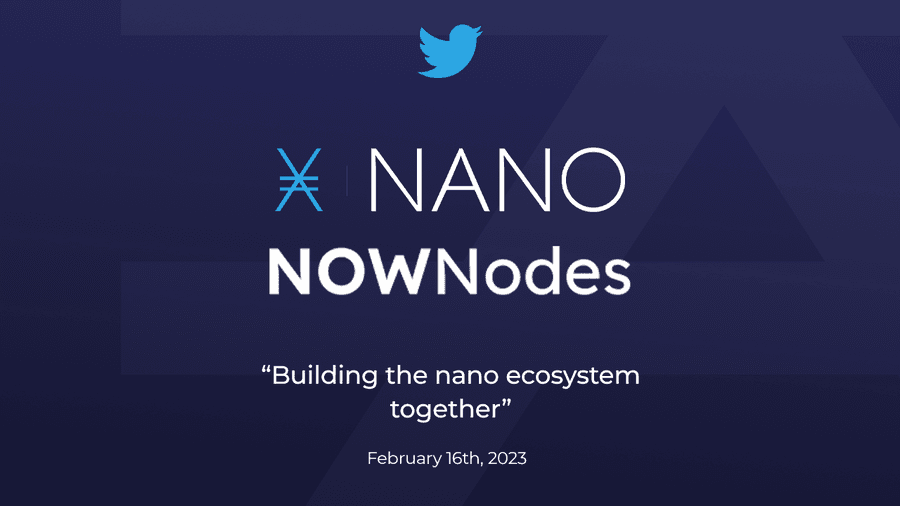 Want to learn more about NOWNodes, a node provider that helps builders in the nano community create their vision without needing to set up and run their own node? You might want to listen to this twitter space where the amazing people from NOWNodes joined Social Media Lead Forest Horsman to discuss everything about building the nano ecosystem together. We uploaded the twitter space recording to our YouTube channel! Check it out right here.


Twitter Space with Nano Foundation, NOWPayments & Coinsbee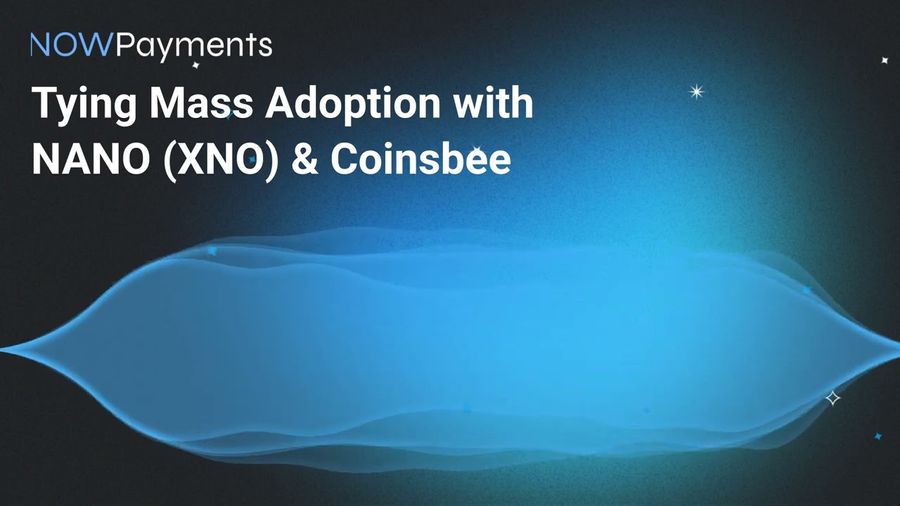 Adoption of nano takes time, and does require a merchant, a way to easily accept nano, and of course nano itself! To give a better insight into this adoption of nano and cryptocurrency as payment method, NOWPayments hosted a twitter space together with Coinsbee, a gift card provider that lets you buy gift cards with nano, and with Forest Horsman from the Nano Foundation. A great combination of merchant, merchant solution, and fee-free global currency! Definitely worth a listen. You can listen to the recording right here on NOWPayment's YouTube channel.


Tutorial - How to send and receive nano payments using RPC by Bob Linster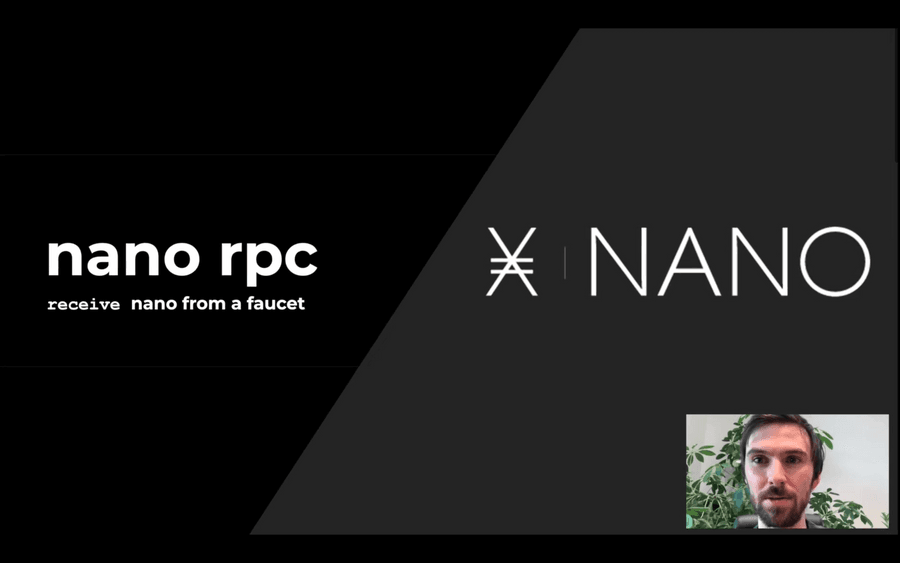 Would you like to learn how to send and receive nano using RPC commands? It's much easier than you would think! Take a look at this great and easy tutorial by Developer Bob Linster, known in the nano community as gr0vity, to learn how to use nano RPC commands to send and receive nano!


Livestream - Porting the nano node from C++ to Rust by Gustav Schauwecker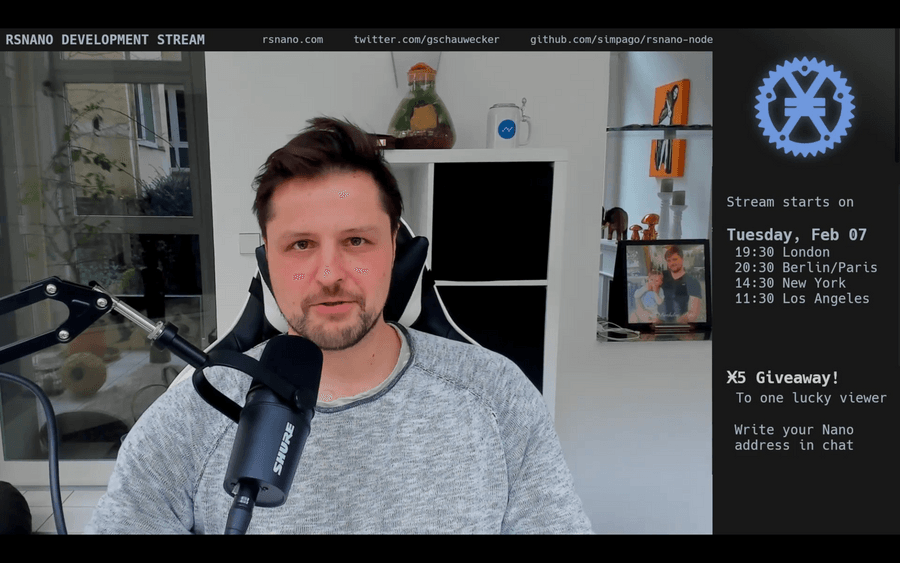 Having the nano node software available in different programming languages can be very beneficial. That's why nano is currently being ported from C++ to Rust. Want to get a better insight into how it's done? Here are some great livestreams by developer Gustav Schauwecker for the developers in the nano community that demonstrate how the nano node software is ported from C++ to Rust!


Partner news
Businesses and organisations using nano are not standing still! While new partnerships are made and businesses and organisations integrate nano slowly but surely, those that have already done so are improving their integrations and building upon it. Our partners are also actively helping to spread awareness and information about nano inside and outside the crypto space!
Updates
Accept nano fee-free with Sellix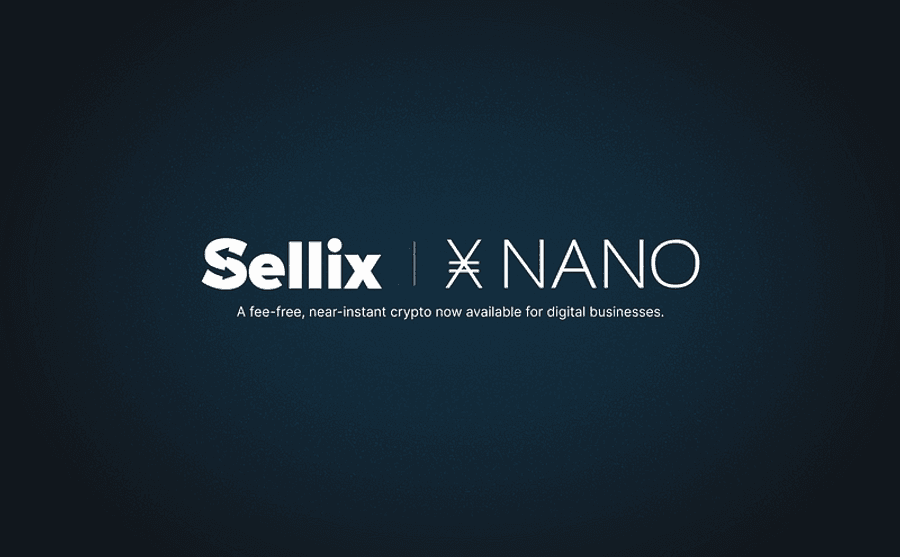 Are you looking to sell digital goods or services for nano? One of the most simple and cheapest ecommerce solutions that allows you to easily accept nano for your digital items, Sellix, now has dropped all processing fees for purchases with nano! This means no fees on nano transactions! They also enabled the ability to purchase a subscription for Sellix with nano. Read more here.

Nano added to CryptoForce exchange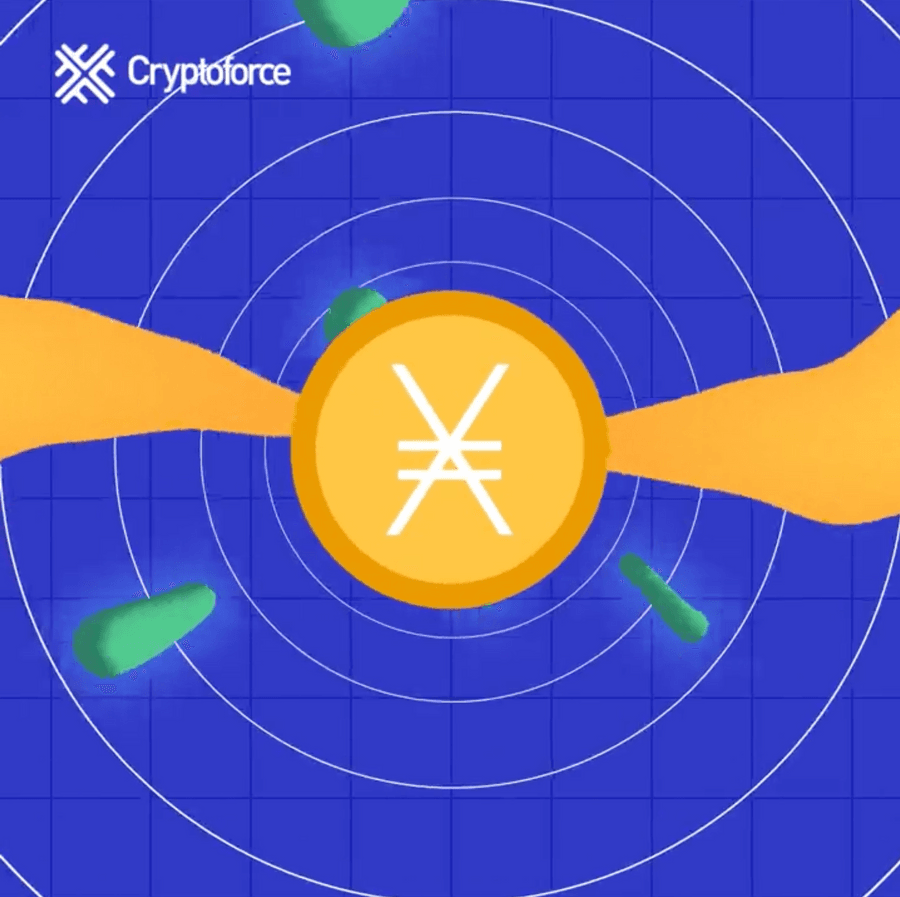 Access to buying and selling nano increases around the globe. Indian exchange CryptoForce has listed nano this quarter! CryptoForce, formerly known as Coinsbit India, allows people in India to buy and sell nano for INR.

Nano available on 2500+ ATM's in Brazil through Saque e pague & Monnos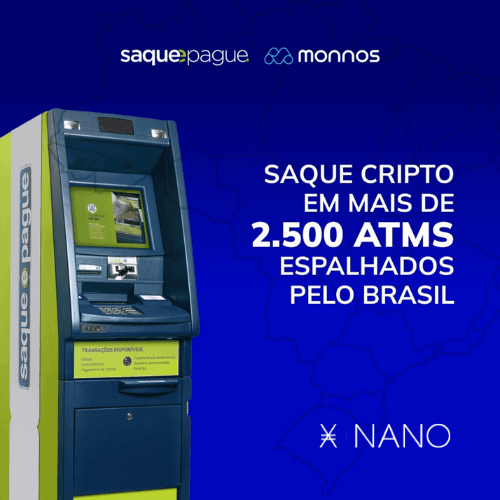 One way to get your hands on nano without needing to sign up for an online exchange is through cryptocurrency ATM's. These allow you to conveniently buy and sell cryptocurrency with physical cash. In a partnership between Monnos and Saque&Pague, nano and more than 50 other cryptocurrencies will be available for swap and withdrawal in Real (BRL) in more than 2500 ATMs in 451 Brazilian cities!

Nano available on FMFW.io Exchange
Another listing - nano is now available on FMFW.io exchange with a BTC, ETH, USDT & USDC trading pair! Not only that, they also made nano available on their FMFW app that allows users to buy, sell, swap and send nano!


Kakele MMORPG at GDC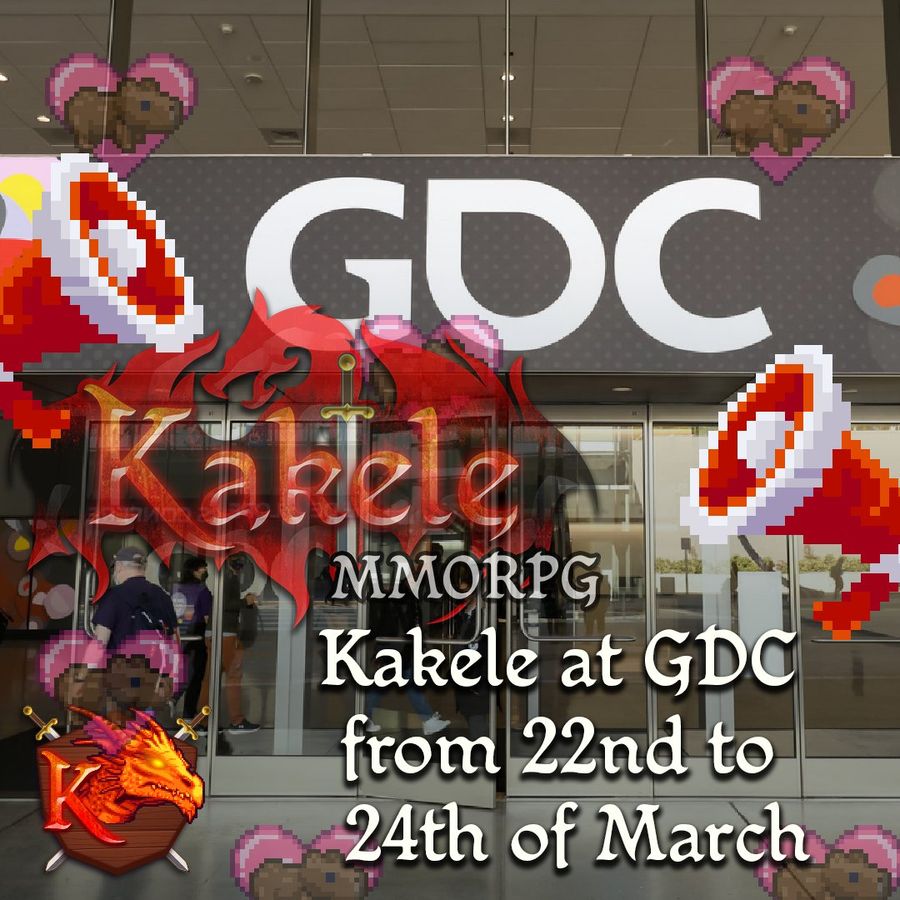 Do you love gaming, and nano? Kakele Online MMORPG is a perfect combination for you! Did you know Kakele Online MMORPG attended GDC? They got to show off their nano integrations to gamers from around the globe!


XNO/ETH Pair delisted from Binance
In less fortunate news, the XNO/ETH pair has been delisted from Binance due to low volume on that trading pair. Luckily, the XNO/ETH trading pair is still available on many other exchanges such as Kraken. Check out our nano hub to see all places where this trading pair is available!
Madora.io micropayments for developers
Micropayments can be very useful for developers. Especially micropayments with nano! Check out this video from Madora.io introducing their nano micropayment system for developers


NOWNodes updated implementation
Want to build something with nano, but is it too much work to run your own node? NOWNodes has got you covered! They recently did some updates to make their nano implementation even better! Check it out here.

Exodus improved implementation, smooth as butter!
To really witness the power of nano as a currency, you want your nano wallet to be fast, feeless and non-custodial. Exodus did a great update of their nano implementation, fixing some issues. Now, their nano implementation is super fast and smooth like butter!


Get paid out for email spam filtering with FynCom!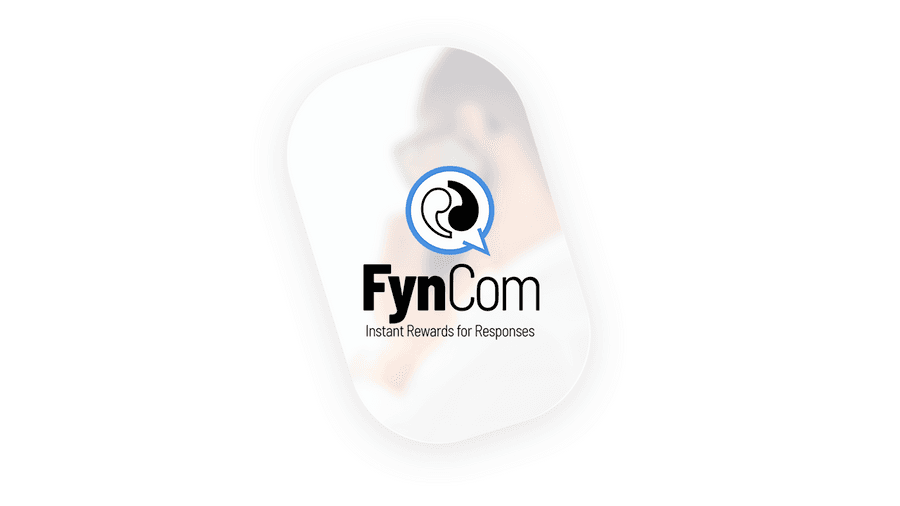 What do you prefer: email scams, or cash in your pocket? Probably the latter! Well, good news - FynCom just released email filtering that allows you to get paid for every scam email you allow them to block! Read more about this awesome new feature here.


Articles
LetsExchange article & interview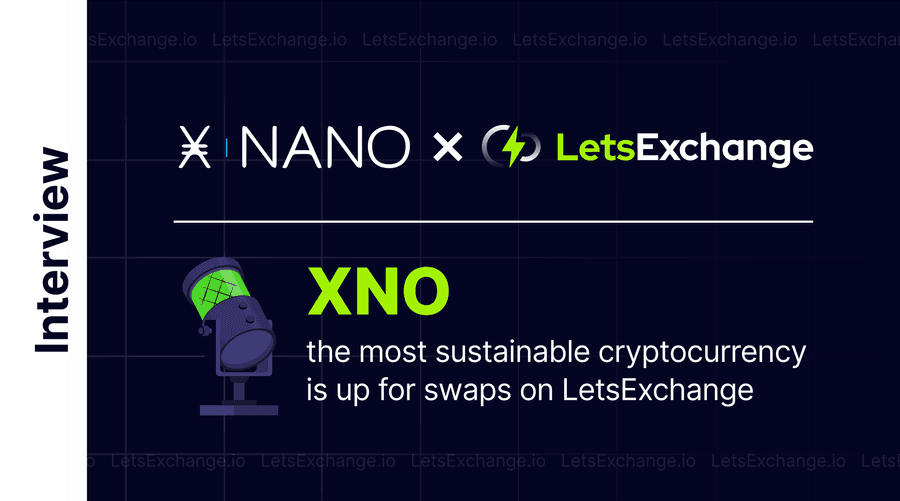 LetsExchange.io released this article highlighting some info about nano.
To follow up, LetsExchange did an informative interview article with Social Media Lead Forest Horsman to learn more about the benefits of nano, how nano can be applied to real world problems, some history of nano and use cases of nano!

WireX Earth Hour Q&A
Want to learn more about the sustainable side of nano and the Nano Foundation? WireX released this great Q&A article on Earth Hour day where you find out more about how nano and the Nano Foundation support our planet!
Swapika Exchange informative article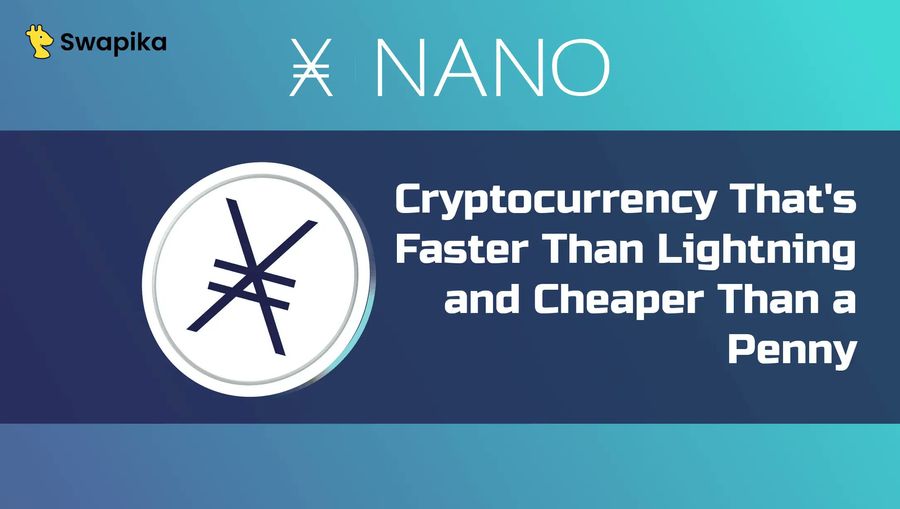 Haven't had the time to learn much about nano yet? Or do you know someone who is new to nano? Check out this great and educational review article about nano from Swapika Exchange! Great to learn about nano or to share with someone that wants to learn more about it.
Bybit educational article
Additionally, there's this awesome educational article from Bybit exchange that teaches you many things about nano. Another great one for beginners!
Community action
One of nano's greatest assets is its community! With people from all over the world helping to spread awareness about nano, spread information to those around them, creating videos and articles, the community never stands still. Take a look below at what the nano community has been up to in these past 3 months.


Niwamanya Martin at Blockchain Club of Uganda
Our ambassador in Uganda, Niwamanya Martin, recently attended an event hosted by the Blockchain Club of Uganda and the Ministry of ICT at Makerere University!

Second Safeboda event by Niwamanya Martin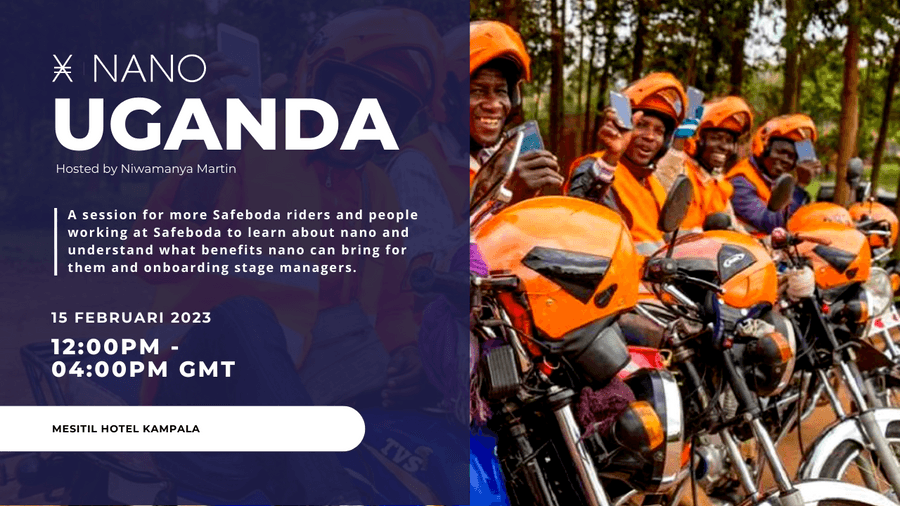 Uganda ambassador Niwamanya Martin has organised another event to spread awareness about nano for Safeboda drivers. We previously covered his initiative of spreading awareness and information about nano to Safeboda drivers in this article. This time, Martin took it one step further with another event.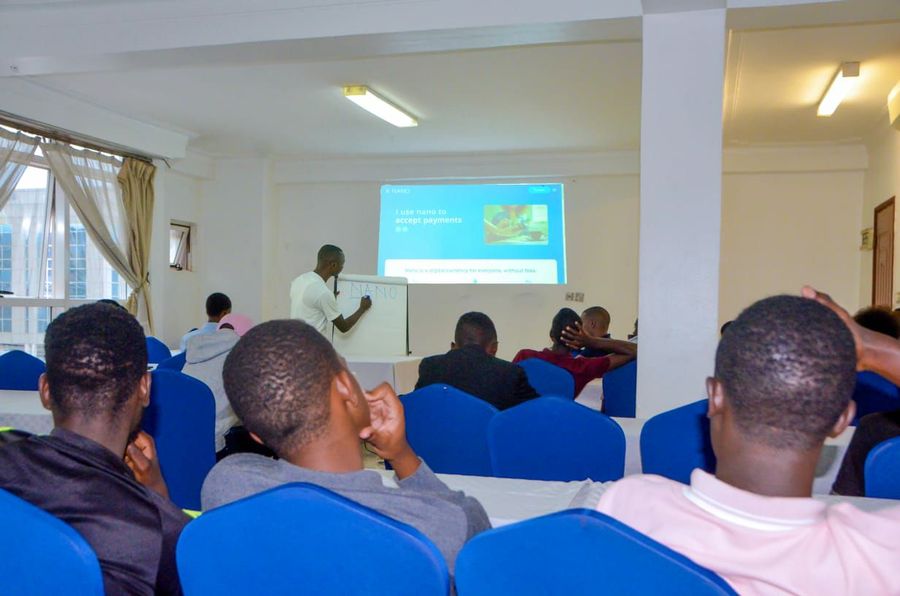 Patrick Luberus runs a self-hosted node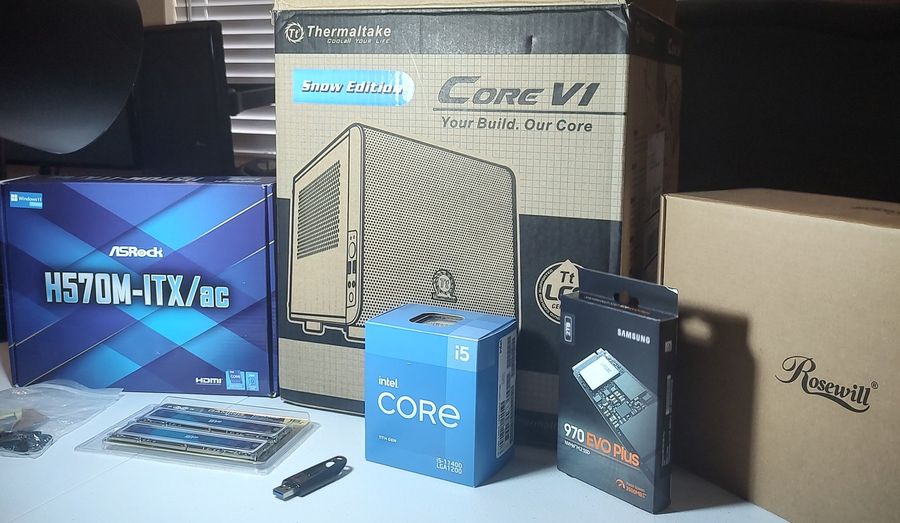 Is it difficult to run your own node? Community member Patrick Luberus decided to test it out, and starting running his own self-hosted nano node! You can check out the project in his twitter thread right here.


A nano torch on twitter
After another episode of the Nano Community Initiatives : 3 Stories twitter space, a new nano torch is making its rounds on twitter!

Update from Crypto for the Homeless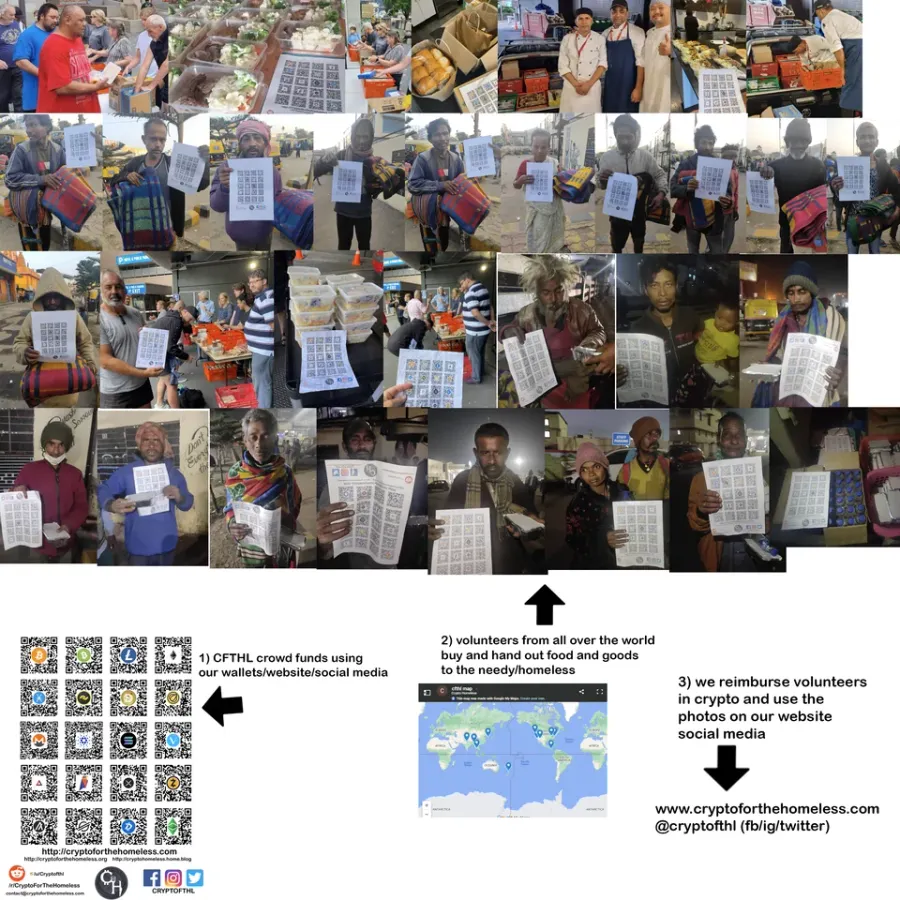 Being able to help out the homeless around the world using crypto is a great idea. That's why the charity Crypto for the Homeless is helping so many people all over the globe. How does it work? Here's an update on the work of Crypto for the Homeless this year so far and their 3 step process.


US ambassador Matthew Inderwiesen at WhaleCoinTalk Twitter Space


Need some great content to listen to for the weekend, during your car drive, bike ride, running session, or just while chilling? Our ambassador from the US, Matthew Inderwiesen, did an AMA on twitter spaces with WhaleCoinTalk where they did a deep dive on nano! Grab your headphones and give it a listen right here.


Brazil ambassador Vinícius Barbosa AMA with CoinEx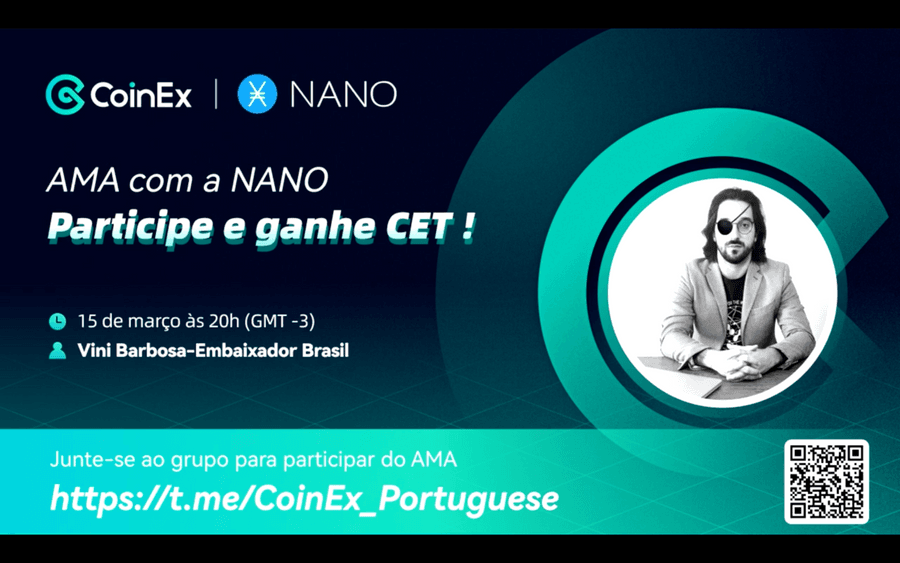 Perhaps you prefer listening in Portuguese? Our ambassador from Brazil, Vini Barbosa, did a great AMA with the Portuguese CoinEx community to share more about nano.


YouTube Short, 3 reasons - by Spades
Or maybe you would like something more quick and visual - YouTuber Spades created this great short mentioning 3 reasons why nano is one of the best cryptocurrencies. Awesome video, Spades!


Allicnac - is nano the future of digital cash?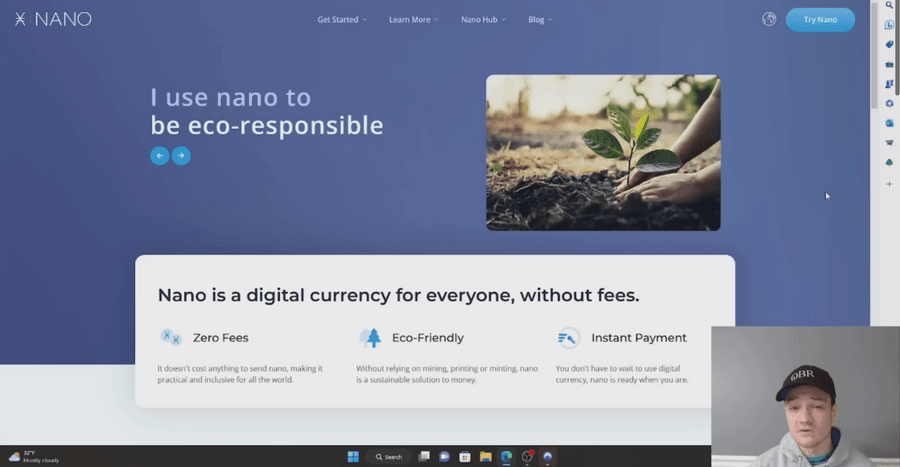 Is nano the future of digital cash? Here's a great video by community member Allicnac sharing lots of information about nano's fundamentals and even showcasing transactions with nano.


Nano Community Initiatives - episode 10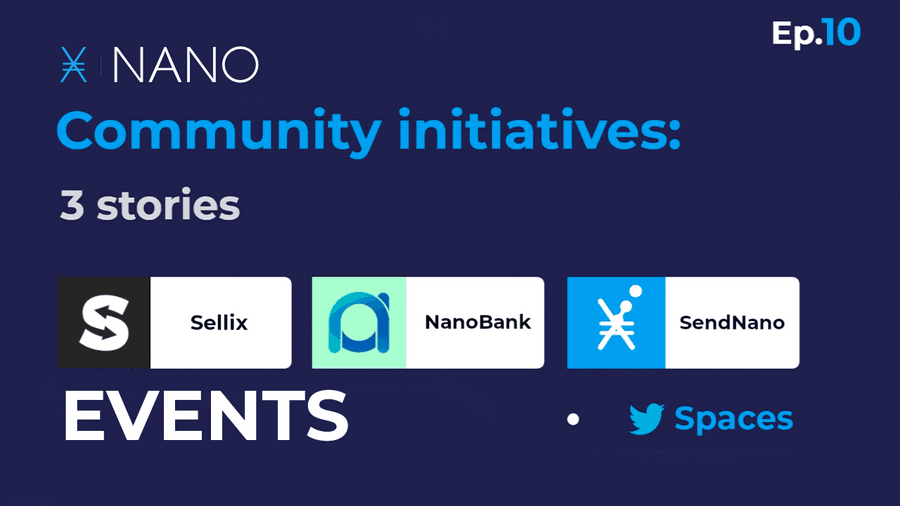 We had another episode of the Nano Community Initiatives: 3 Stories! This time with Sellix, NanoBank and SendNano as guest speakers! Hosted by Colombian ambassador Carlos Murgas and Brazilian ambassador Vinícius Barbosa. Check out episode 10 right here.

Rust port update by Gustav Schauwecker
Are you into the development side of things and want to keep track of the Rust port of the nano node software? Keep up to date with Gustav's Rust port of nano - the December update of RsNano is ready for you to read here!


Articles by @atxmj
One of our community members on twitter, @atxmj, has written an article about what makes nano the hardest and only known fixed supply commodity in the world. But he didn't stop there -
he wrote another article about using nano as a hedge against bitcoin.

Many french articles by Pierric Buchez!
Here's also some great articles written in French by Pierric Buchez like this great tutorial on how to earn nano using your computing power via the Nanswap mining pool.
Not everyone in the nano community is a developer. Development updates can therefore be quite confusing for a lot of people. Luckily, community members such as Pierric Buchez are here to explain these development updates in layman terms. Check his article in french here.
His brilliant work on writing articles doesn't stop there! Pierric also wrote a great tutorial in french teaching you how to set up a nano node on a Raspberry Pi!
The importance of currency & censorship resistance by Senatus
Senatus wrote another brilliant article about the importance of currency and censorship resistance.
Deep dive into nano development by Vinícius Barbosa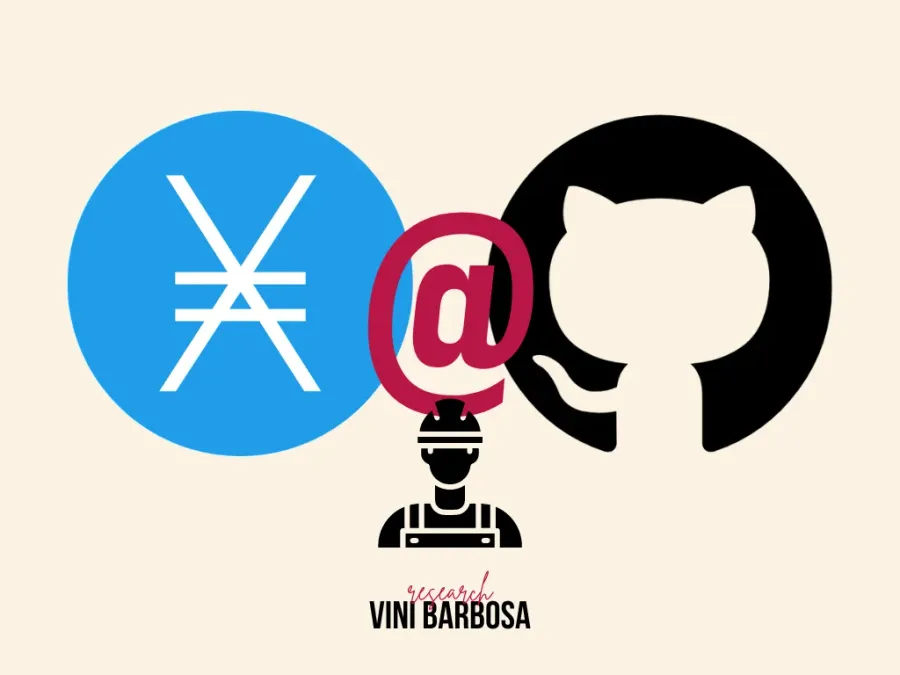 Want to get a better insight into the development of the nano ecosystem? Brazilian nano ambassador Vinícius Barbosa has got you covered! Check out this deep dive into some data about nano development. https://vinibarbosa.substack.com/p/nano-xno-github-a-dive-into-the-development
A big thank you to all translators!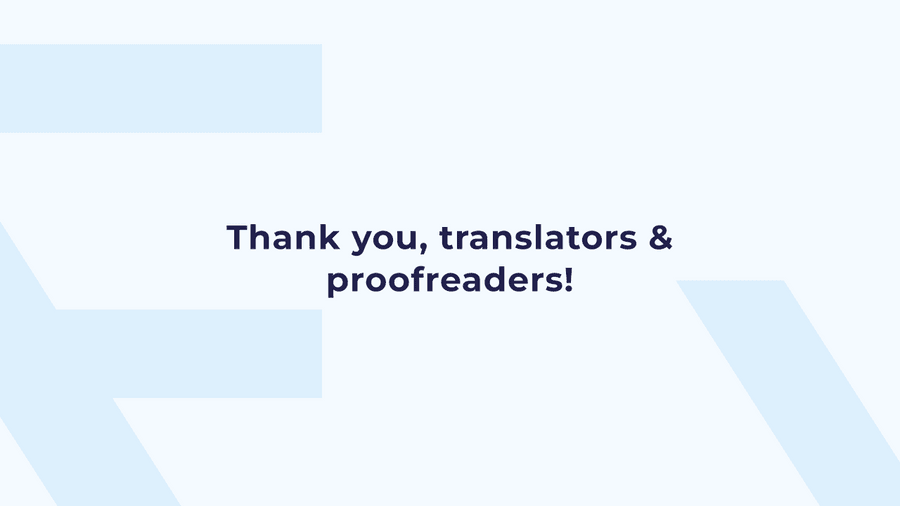 Just as we want nano to be as accessible as possible for everyone around the globe, we want to spread information about nano across the globe too! To do this, we need to have them translated into as many languages as possible. Thanks to the amazing nano community, we've had some great progress in translating and proofreading our website and blog articles to languages from all around the world!

Thank you Takuo Imoto for Japanese translations, Thijsfc for Dutch translations, @satoshinakajima94 for Indonesian, Sergio Tolentino & José Morales for Spanish, Vinícius Barbosa for Portuguese, Bartosz Kuśmierek for Polish, cruptur for Norwegian, Medinat Oyiza Ogido for Nigerian Pidgin, Charlie Beer & @RadioLP1998(T0ast) for German, Corentin & MyEcoria for French, Xavier Bach-Esteve, Toni (lloscopour), Jaume Battle for Catalan and Alina Dovzhenko for Ukrainian translations!
Your work on translating and proofreading is incredibly helpful and we couldn't be more thankful! You all rock!
The Community Programme expands!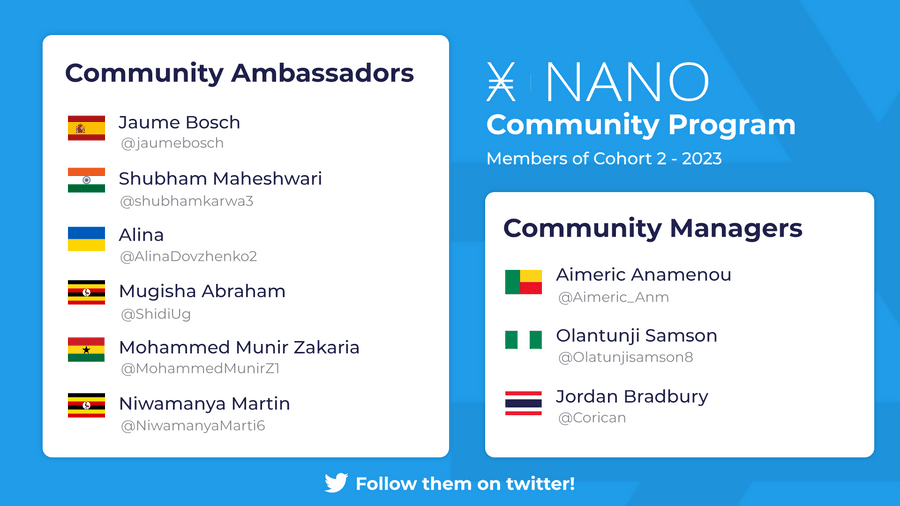 A warm welcome to the new ambassadors and community managers that have joined our Community Programme this month! We are excited to say that our community programme has now expanded with the addition of members from previously unrepresented countries!
Don't forget to follow them on twitter and keep an eye out for more info on each of them in the coming weeks as they tell their stories and share their goals for nano.


Our new Community Programme members, Alina from Ukraine and Aimeric from Benin, created telegram channels for the nano communities in their countries! Join their groups and keep up to date with everything nano in your country!
Additionally, Alina has written her own article about nano in Ukrainian and translated WireX's Q&A article to Ukrainian too!
Check out the full list of Community Programme members here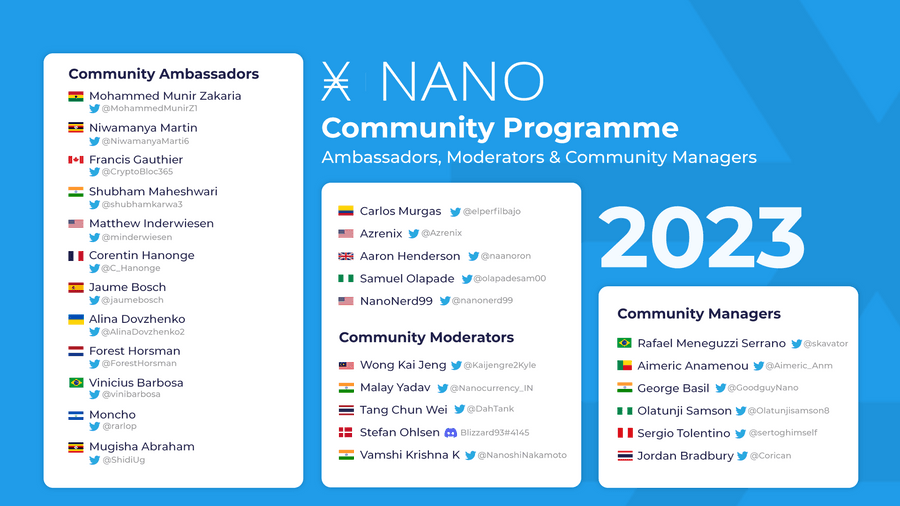 Would you like to join the Nano Community Programme or find out more? Reach out to aneena@nano.org for more info.


Ecosystem updates
The nano ecosystem keeps getting bigger and better! Here's some updates from awesome nano tools, apps and websites. There's also been more adoption of nano for payments!


NanoBrowserQuest update & expansion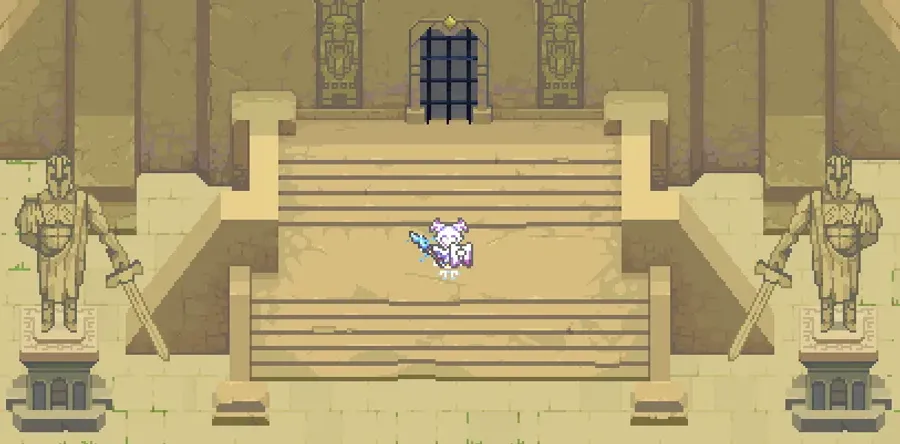 Do you like gaming and nano? NanoBrowserQuest is the perfect combo for you! Not only that, NanoBrowserQuest recently had a major update adding many new features such as new quests, a bigger map, new items, and more!
Additionally, a new expansion 'The Lost Temple' just released for NanoBrowserQuest too!


NanoBankBot tool for easy top-ups and buying nano in Brazil

Brazilians have an easy way to buy nano, and to buy gift cards with nano, all through Telegram! Brazilian developer Wenderson created the NanoBankBot tool that easily allows buying gift cards to top up balances for apps such as iFood, but also allows users to easily get their hands on some nano. Check out this demo of Brazil nano ambassador Vinícius Barbosa topping up his iFood balance with the NanoBankBot tool right here.

Nanswap CPU mining to earn nano
Want to earn nano and have a CPU available? Nanswap now allows users to easily earn a bit of extra nano through mining with CPU!
Metrics.bar by Nano2Dev
Web analytics can be extremely useful, even better if you can pay for your web analytics using nano! Luckily, community developer Nano2Dev never sits still and created another awesome project to track simple web analytics that accepts payments in nano. Check it out right here.
Goodbye to NanoTipBot, but updates to Sendnano
Unfortunately, we did have to say goodbye to a long standing twitter tipbot, the NanoTipBot…

Though fortunately, the new twitter tipping tools have gotten even better! In the last Digest we saw that a new twitter tipper called SendNano popped up and twitter tipping with nano took off like a rocket! This quarter, SendNano added a mass tipping feature to share nano with many people through give aways!
They also added an earn page where you can see all mass-tipping tweets, increasing exposure for the tweet and making it easier for people to earn nano!
It now also includes the ability to mention the amount of nano you want to send in euro, dollar and rupee!
Mass giveaway feature & reddit tipping with Nanobyte Pay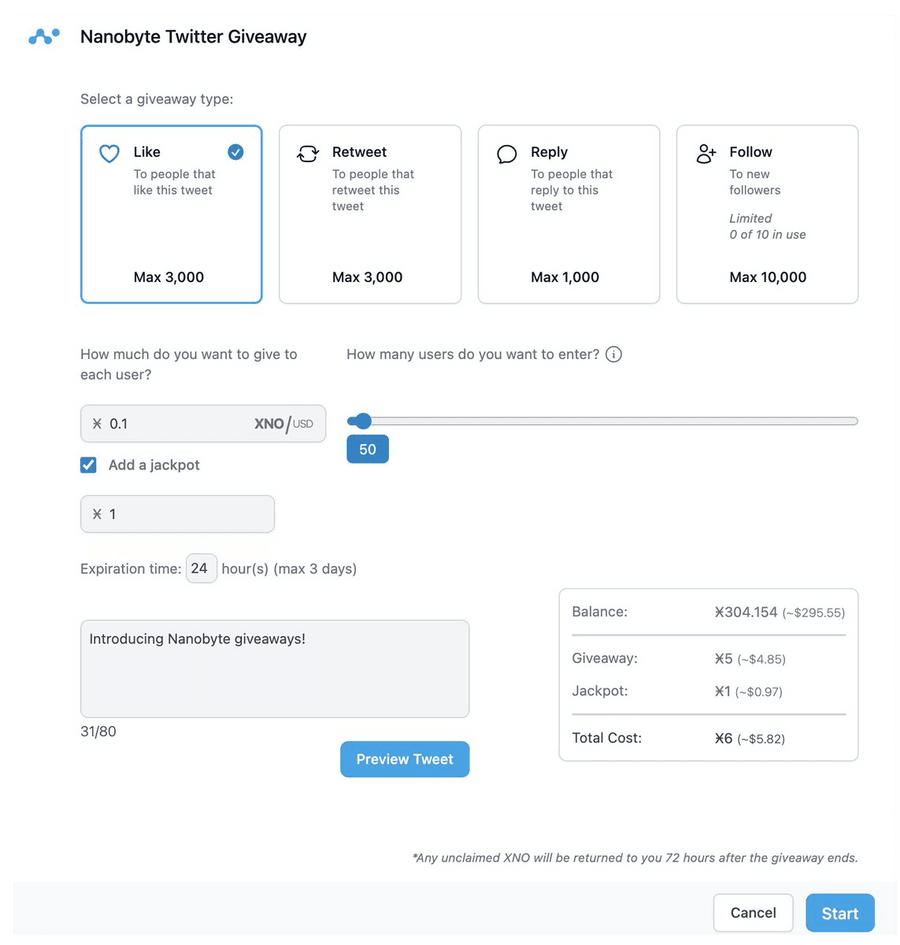 We also saw in the last Digest that Nanobyte Pay implemented a twitter tipping feature. They now also have a giveaway feature with a sleek design, allowing users to easily do massive giveaways on twitter using nano!
Additionally, Nanobyte has now enabled tipping on reddit!
Nautilus updates
Nautilus has had several updates in the last quarter and now includes new features such as subscriptions and adding a custom POW source! It has also had many bug fixed, back end updates and more.


Buy and sell nano peer to peer with UPI
Exchanging nano can be difficult depending on where you live. India is one of the countries where on- and off-ramping of nano has friction. Luckily, Avimanyu Bandyopadhyay, who has helped the restaurant in Kolkata Vyanjan accept nano payments, has created a new app that allows people to buy and sell nano peer to peer with UPI! Very useful!
New faucet Get-XNO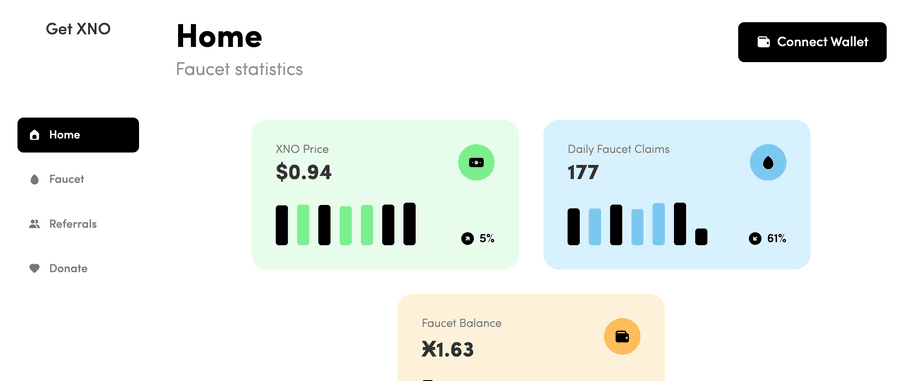 One of the easiest ways to get started with nano is using a faucet. They give a small bit of nano to anyone so they can try out nano for the first time. A new nano faucet with a sleek design popped up that allows users to claim a small bit of nano every 30 minutes. Check it out here!
Keep up to date with allthingsnano.org
Want to keep up to date with NF media appearances or latest info about integrations? A new website popped up tracking what's happening in the nano space.

New API for RPC commands with rpc.nano.to
RPC commands are an easy way to get info from the nano network and start developing with nano. The developer of nano.to, Nano2Dev, released a new public blockchain API - rpc.nano.to
Buy nano stickers at nanosanctuary.com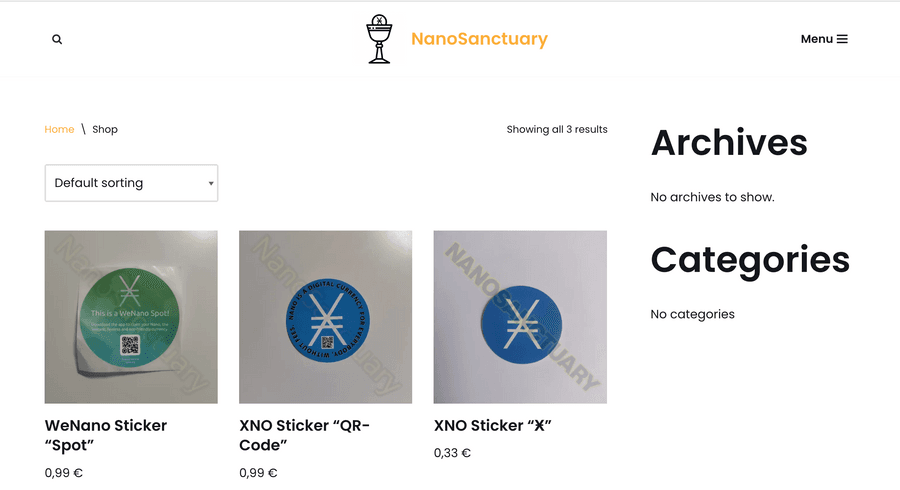 There are many ways to spread awareness of nano. One of those is on the streets - using nano stickers! User Pope Bananodict started a shop that sells nano stickers and accepts payments in nano via nowpayments! There's even WeNano stickers available so you can mark your WeNano spots and spread awareness in your city! Check it out and get some stickers here.

Updates from u/IronBobcatHax
One of the active builders in the nano community, u/IronBobcatHax, shared an update on the awesome stuff he is working on. This includes an international version of NanoBank called UnitedNano - a project that allows people to buy giftcards with nano on telegram.
Great to see people hard at work on new projects!
Buy food in Nigeria with Diva's Kitchen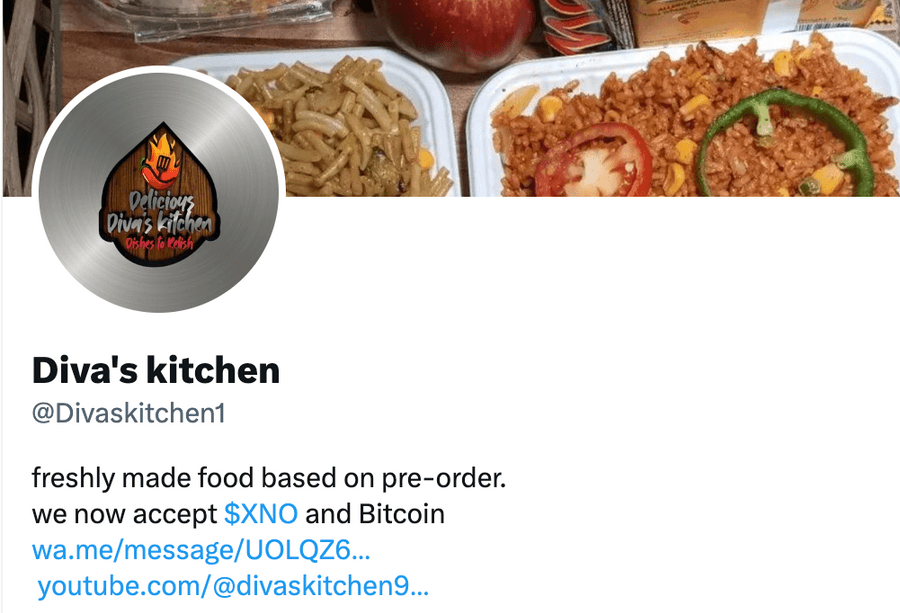 One of our focus countries is Nigeria. Adoption of nano for payments in Nigeria keeps growing, with new businesses accepting nano. For instance, Diva's Kitchen in Nigeria now allows you to buy food with nano!
With food being in the first bracket of Maslow's Pyramid as one of the most important things a human needs to survive, this is really a great step for the adoption of nano!

Yelam Food Mart in Ibadan, Nigeria accepts nano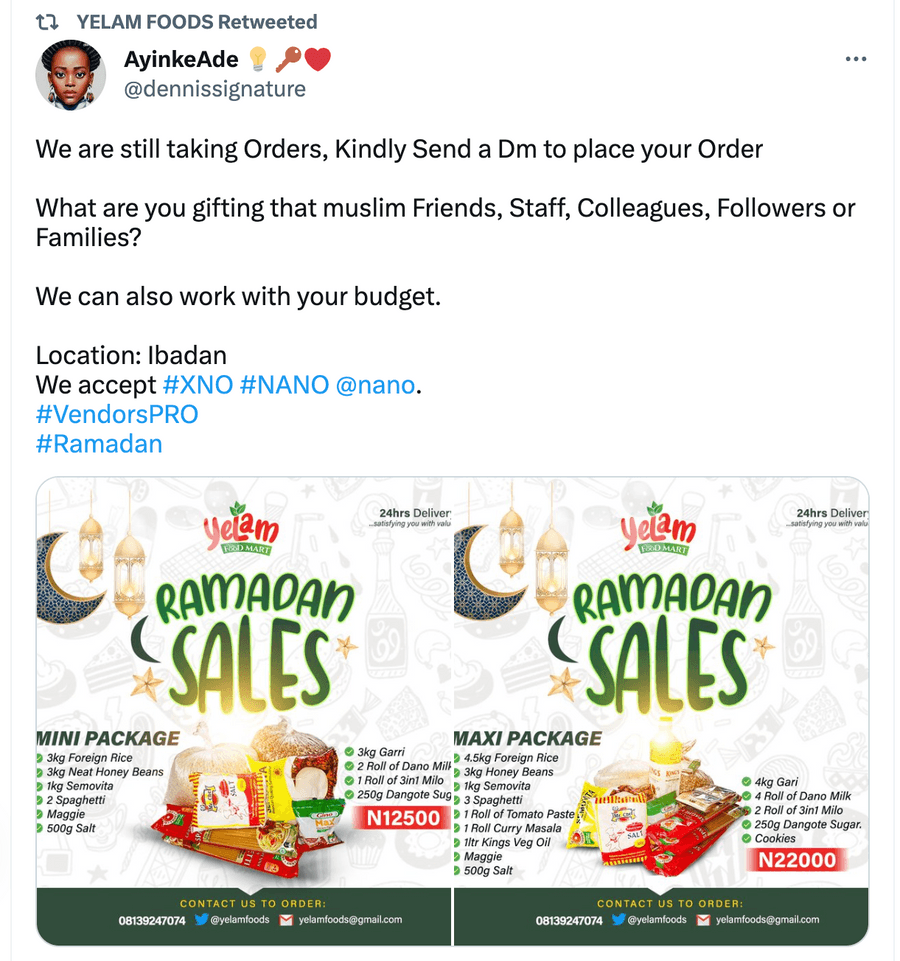 Yelam Food Mart in Ibadan, Nigeria now also started accepting nano for food! Great to see more adoption of nano as a payment method to buy food items and packets!
Buy beers and burgers with nano in Brazil at The Crow Pub & Corleone Craft Burgers!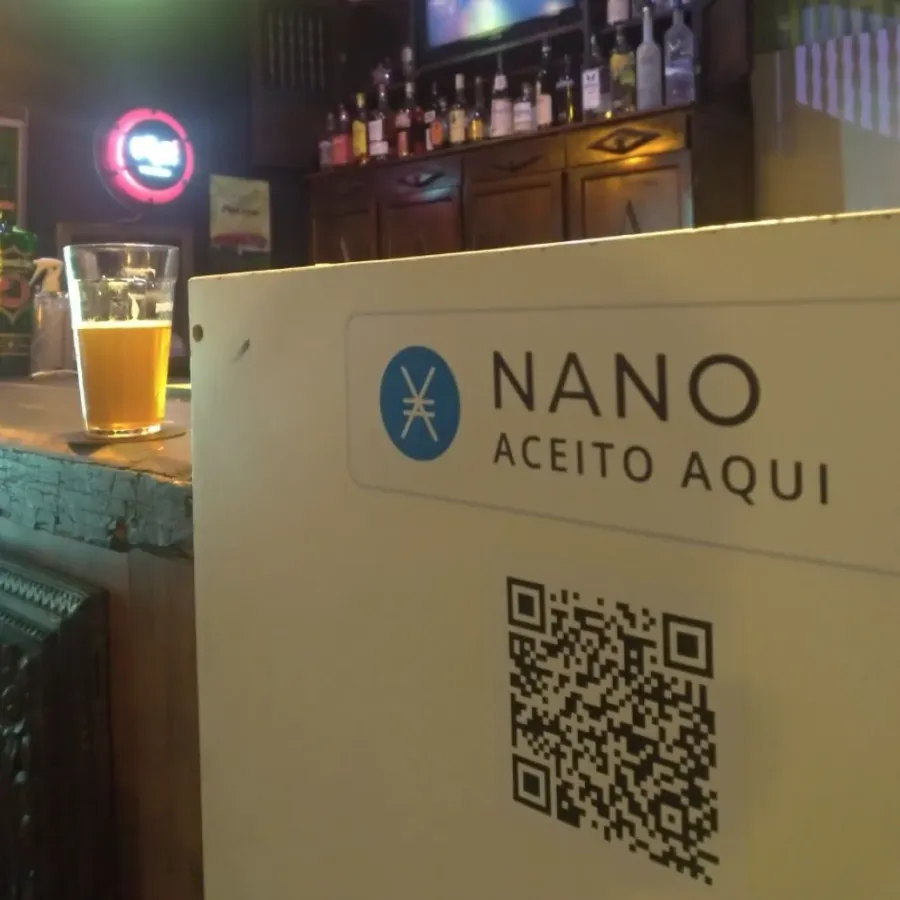 But nano adoption in Brazil is not standing still either - want to buy a beer or a burger with nano? Now you can! The Crow Pub and Corleone Craft Burgers now accept payments in nano!
Co-working space in Stuttgart accepts nano for snacks and beverages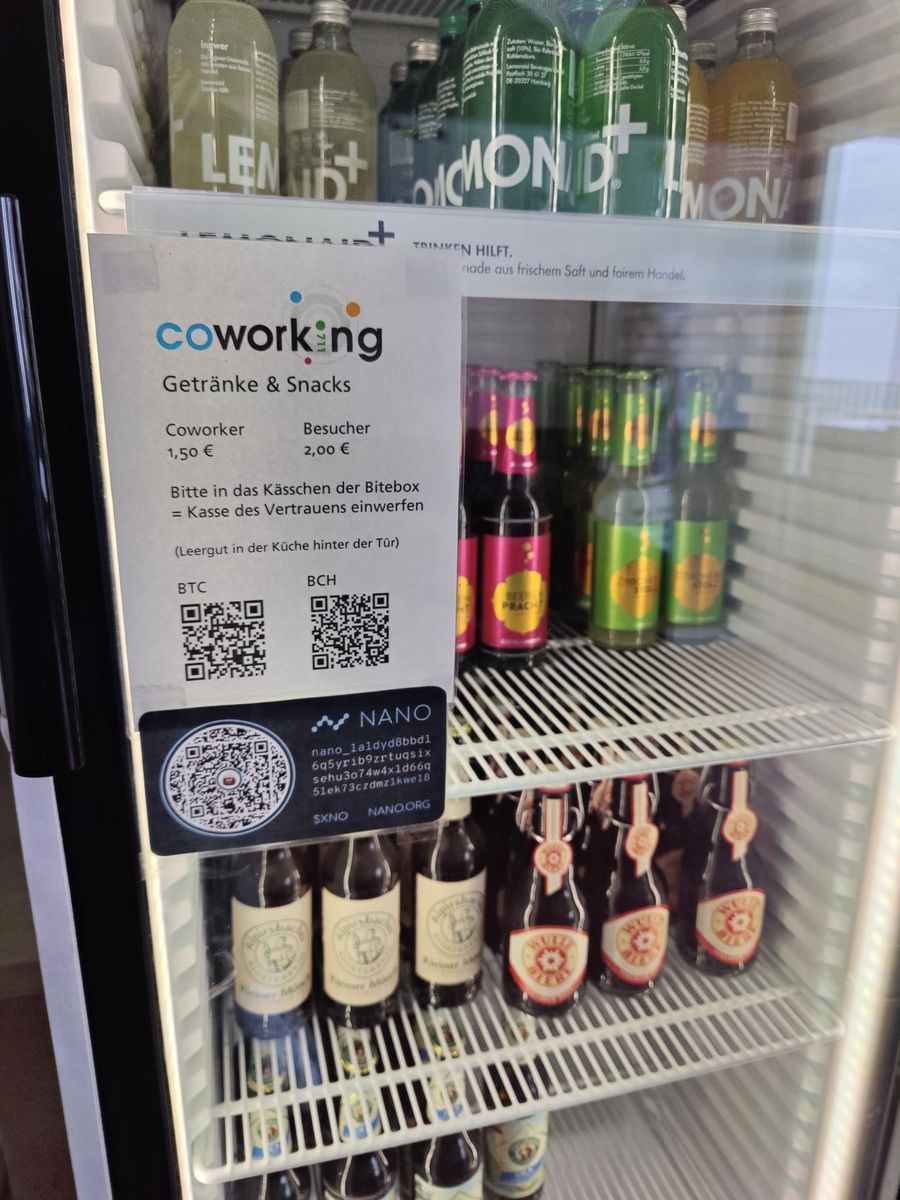 Ever get hungry or thirsty while working in your co-working space? Those hard at work at this coworking space in Stuttgart can now buy a refreshing beverage or a snack with nano! A great form of adoption for nano - does your co-working space already accept nano?

Keep on reading with nano blog articles
Almost finished reading the Digest and can't wait to read more about nano? There's plenty more to read! We have published many new articles on our blog in the first quarter of 2023. Learn more about nano, follow the unbanking journey of our Brazilian ambassador Vinícius Barbosa, get up to speed with the latest development updates, and much more!

Self custody: keep your nano in a non custodial crypto wallet
To really own your nano, you need to hold it in self custody. Learn how to keep your nano in a non custodial crypto wallet from community writer Senatus in this article.


How Kakele Online uses nano to power in-game transactions and play-to-earn functionality
Learn more about the MMORPG Kakele Online and how they use nano in this article.


How to contribute to the nano blog
Are you feeling your inner-shakespeare coming out? Or perhaps you just want to share your experience with nano? We wrote an article about how you can contribute to our blog!


Becoming unbanked: a journey towards individual monetary sovereignty
Our ambassador in Brazil, Vinícius Barbosa, has started his journey towards unbanking himself and is keeping us up to date via the nano blog. Check out part 1 of his journey here.


V24.0 Siglos is live
Read all about the nano node software V24, named Siglos, release in this article on our blog.


Happy Chinese New Year from the Nano Foundation
The Nano Foundation and the nano community have celebrated Chinese/lunar New Year. Check it out here.


Community Manager Appreciation Day
Take a look at the brilliant work our community managers around the world are doing in our recent article for Community Manager Appreciation Day!


This month in RsNano: January 2023
Here's an update on Gustav's work of porting the nano node software to rust - This Month in RsNano, January
How to contribute to the nano network (without knowing C++)
Learn how to contribute to the nano network without knowing C++ in this article.


The Nano Foundation's vision for 2023 and beyond
You might be wondering what the Nano Foundation has planned for 2023 and beyond. To make this clear, we outlined the Nano Foundation's vision for 2023 and beyond in this article on our blog.


Becoming unbanked part 2: A matter of survivability
Vinícius Barbosa's unbanking journey part 2, diving into the history of Brazil's financial system and why it pushes Vini to unbank himself.


The problem with mixing currency and data
Founder of nano and Director at the Nano Foundation, Colin LeMahieu, wrote an article about the problems with mixing data and currency


How nano is powering the future of micro-tipping
Online tipping with nano has taken off these past few months! More and more people have been using nano to tip content creators online, especially on twitter. Learn how nano is powering the future of micro-tipping here.


What makes nano one of the most energy efficient currencies?
Nano is one of the most energy efficient currencies in existent. But, how and why? Learn more about nano's energy efficiency in this article.


Becoming Unbanked Part 3: Receiving Payments in Nano
An important part of unbanking yourself is getting your hands on nano. What better way than to create an income in nano? Check out part 3 of Vinícius Barbosa's journey to unbanking himself, where you learn more about how he creates an income in nano.


How to take self custody of your nano
With the uncertainties in the last year when it comes to custodial services such as centralised exchanges and banks, it might be a good idea to self-custody your nano. But, what exactly is self custody? And how do you do it? We released an article about the importance of self custody, and how to self custody your nano in 4 easy steps.


How to choose your nano representative
Following up on the self custody guide, we created a guide on choosing your representative to help secure and decentralise the network


Other articles
Still haven't read enough about nano? There's plenty of articles that mention nano, from sustainability to adoption and more! Read articles about nano and mentions of nano in the articles below.


https://ideasforgood.jp/2023/03/08/nano/
https://www.business2community.com/cryptocurrency/most-sustainable-cryptocurrency
https://learnertrip.com/cryptocurrencies/most-energy-efficient-cryptocurrencies/
https://thefutureofthings.com/18284-top-7-environmentally-friendly-cryptocurrencies/?utm_content=cmp-true
https://www.securities.io/how-to-buy-nano/
https://augustafreepress.com/commercial/nano-ada-and-cchg-are-the-best-eco-cryptos-to-buy-in-2023-heres-why/
https://augustafreepress.com/commercial/nano-ada-and-cchg-are-the-best-eco-cryptos-to-buy-in-2023-heres-why/
https://learnertrip.com/cryptocurrencies/cryptocurrencies-use-cases/
https://learnertrip.com/cryptocurrencies/xno/
https://www.cryptopolitan.com/nano-price-prediction-2029/
https://www.aninews.in/news/business/business/big-eyes-coin-and-four-other-tokens-predicted-to-surge-this-december20230102160353/
https://www.readersdigest.co.uk/money/investment/greener-crypto-industry-a-noticeable-shift
---
Nano Foundation does not endorse or approve products and/or services used or developed by third parties. Any links to third party software or sites are for informational purposes only. Nano Foundation bears no responsibility for the operability, accuracy, legality or content of third party products and/or services. Any questions regarding third party material should be directed to that party.