How nano is powering the future of micro-tipping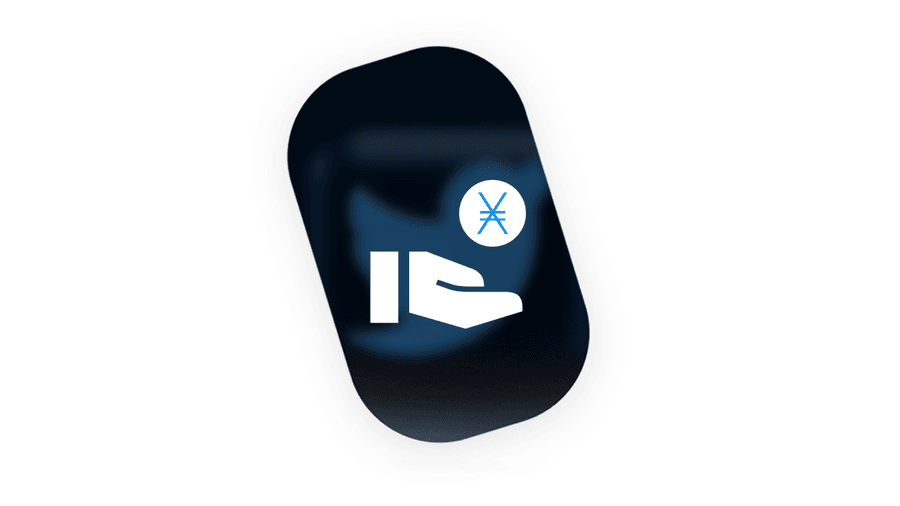 Micro-tipping is the act of giving small amounts of money in exchange, or thanks, for online content. It's a way of showing support for content creators by sending them value directly, without the need for an intermediary. With nano at its centre, it has the power to fundamentally change the way we react to and reward online content.
Imagine being able to send money directly to your favourite influencer or content creator for contributing something you believe is worthy. A truly peer-to-peer transfer of value, with no processing fee, commission or intermediary taking a cut. You could thank someone for a tweet that made you laugh, or a post you found inspiring. You could send money directly to the organisations you want to support, or to the journalists and experts whose work shines a light on the world around us.
And this is just the 'tip' of the iceberg. The same technology can be used by individuals to reward an audience for likes and follows. Brands could actively tip users that use hashtags and share their content. The possibilities are limitless and nano is the power behind it all.
Why nano is the perfect currency for micro-tipping
Nano has a unique combination of features which make it the ideal currency for micro-tipping.
1. It transacts instantly
For micro-tipping to be truly effective, it needs to be integrated seamlessly into the social media platform. The user experience is vital. Tipping should feel as effortless and intuitive as hitting a like button. Because nano transacts in under half a second, it enables an instantaneous react-reward response, allowing the tipper and the receiver to experience the exchange in real time.
2. It transacts with zero fees.
Many currencies will headline their low transaction fees, suggesting somehow that once they get small enough they're not worth considering. Nano is the only one that offers instant transactions with zero fees. Why is this important for tipping? Let's theorise for a second. Imagine a few years down the line, tipping replaces liking in the social media space. On one platform alone, we'd be looking at billions of transactions a year. Suddenly those tiny fees add up to a significant number. For micro-tipping to truly take off, the transactions must be totally without fees.
3. It's highly divisible.
Each nano can be divided into as many as 30 decimal places. What is the significance of this? Well, it means that users can send fractional amounts (hence the name micro-tipping), offering monetary support without ever feeling under financial pressure for doing so. Because there is no minimum amount for a transaction and, as mentioned above, no fee, nano truly makes tipping open to all. Theoretically, you could visit a nano faucet right now, collect 0.0001 nano for free and by dividing that amount, send as many micro-tips as you like, every day for the rest of your life!
Micro-tipping Businesses
Let's look at some of the innovative businesses using nano to power the micro-tipping revolution.
Nanobyte Pay
The Nanobyte Pay Chrome extension is truly a thing of wonder. On Twitter, it allows you to automatically send nano directly to users who interact with your content, whether that's through likes, retweets, replies or follows. It also enables you to host giveaways and jackpots to lucky recipients!
It's simple to use with a great UI and the extension just presents as the nano ticker symbol X on your tweets: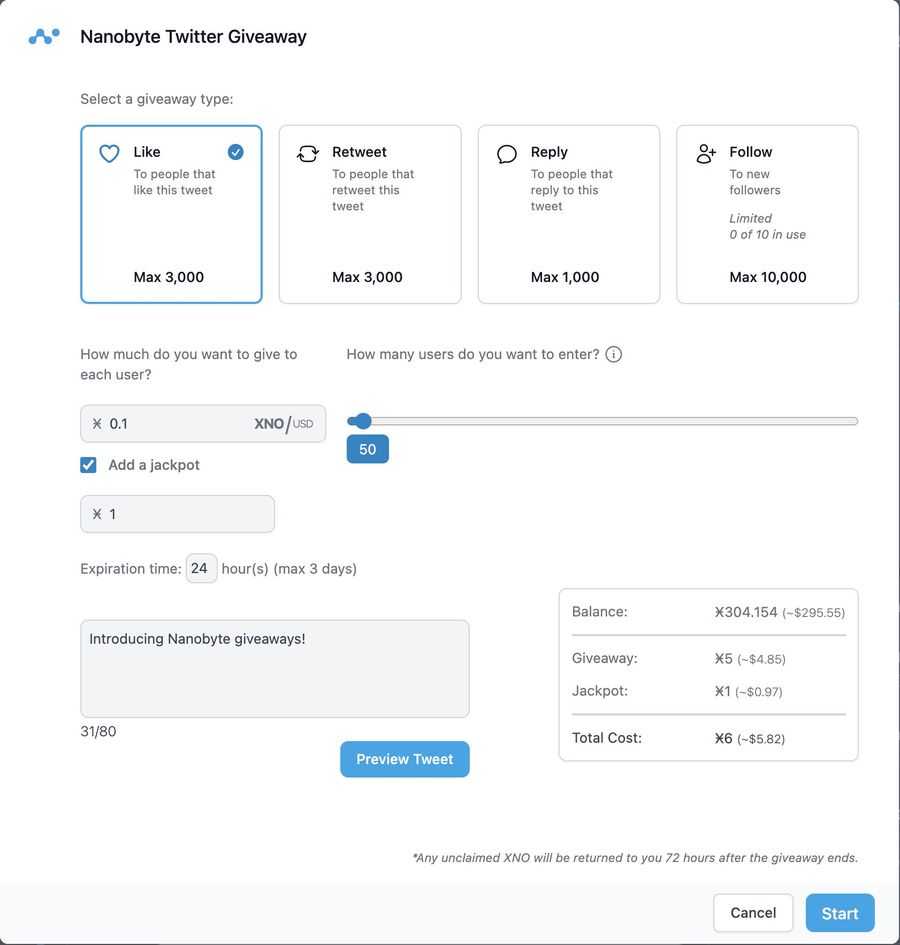 You can also connect it to your Reddit account and tip users there.
Nanobyte is also a payment processor designed to make paying online as effortless and frictionless as possible. So you can pay with your nano at selected merchants' websites too!
Nanobyte's founder, Charlie Mack, is always looking to innovate, so don't be surprised if you see its extension on other social media sites in the not too distant future. Watch this space!
SendNano
Whereas Nanobyte offers micro-tipping as a desktop Chrome extension, SendNano provides mobile functionality.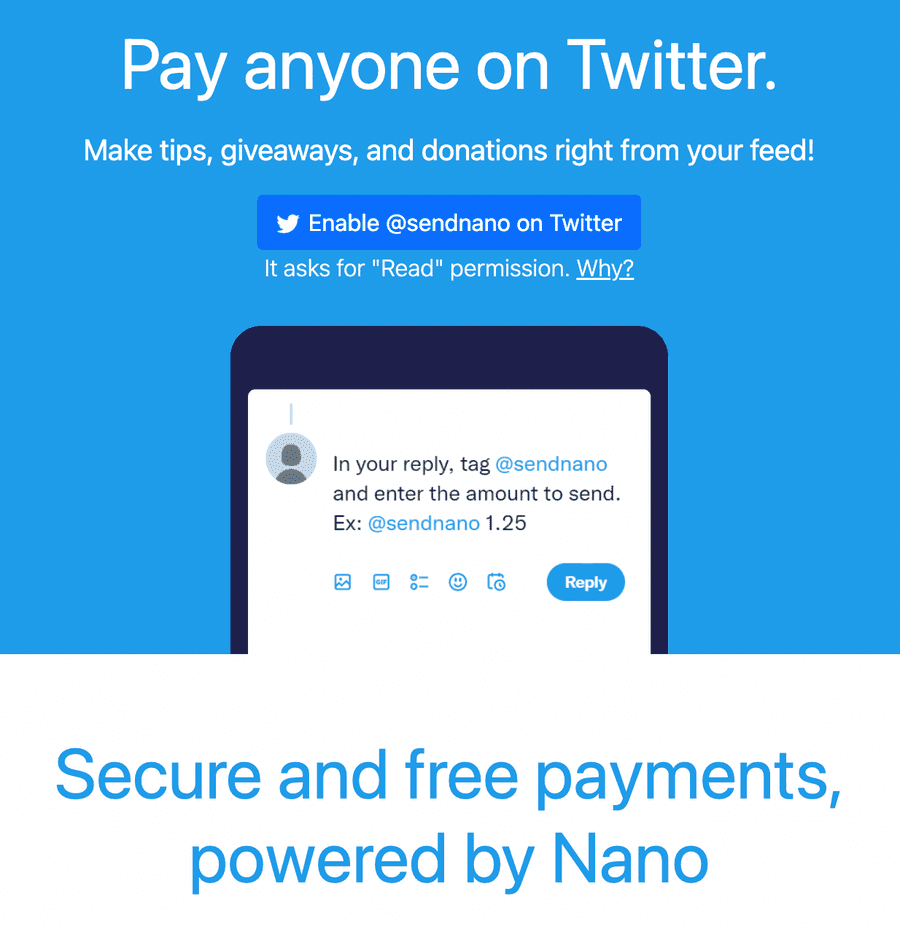 It is ridiculously easy to use. Simply connect your Twitter account with the click of a button and you're ready to start sending and receiving nano. SendNano also lets you specify an amount in USD, EUR and INR, simply by inserting the symbol and specifying the amount.
The significance of these integrations shouldn't be understated. Nanobyte, SendNano and other tipping mechanisms, like Nano Tip Bot, effectively turn every Twitter account into a bank account. For those unable to access traditional methods of banking, this could be a vital opportunity for transferring value. Some SendNano users are already paying with nano for goods directly from merchants via Twitter: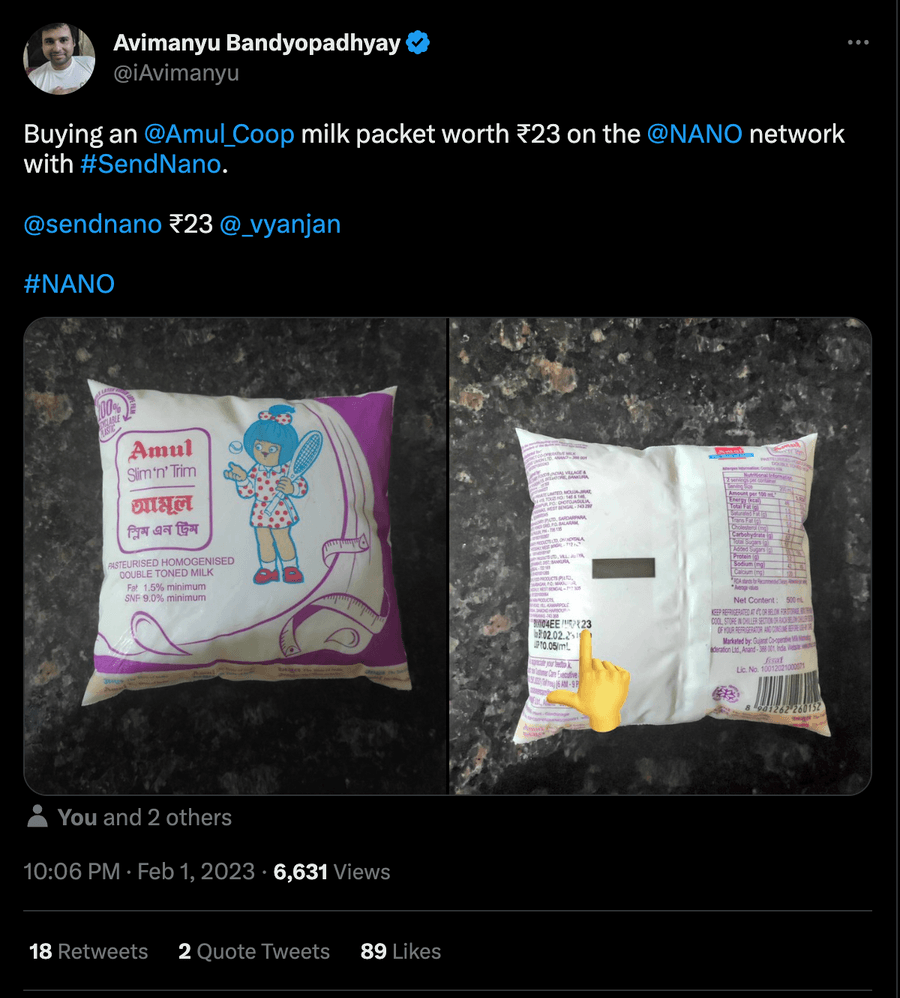 Both SendNano and Nanobyte also enable creators to tip their audiences via 'giveaway' and 'mass-tipping' features, further encouraging a circular economy. They are growing rapidly in terms of numbers of users and amount of value processed and are well placed to explore new opportunities in an exciting emerging industry.
SendNano:

Nanobyte:

And demand for the technology is there. Tipping via Nano Tip Bot, a single, unofficial nano integration on Twitter outstripped the platform's own, official tipping integration built on Bitcoin's Lightning Network.
Final thoughts
Micro-tipping may well be the next frontier for the content creator industry. It offers a way for individual users to thank each other for valuable contributions and directly reward interactions with their content. It's an intuitive, effortless way to show support, ensuring the full value of a tip ends up in the hands of creators, as opposed to third parties who might take a cut or commission. It might even have the power to fundamentally change the way we interact and thank each other online.
What is certain is that nano's technology continues to be the springboard for innovative entrepreneurs to explore new possibilities in micropayments and beyond.
---
Nano Foundation does not endorse or approve products and/or services used or developed by third parties. Any links to third party software or sites are for informational purposes only. Nano Foundation bears no responsibility for the operability, accuracy, legality or content of third party products and/or services. Any questions regarding third party material should be directed to that party.