Nano Digest: V25 Release, a new team member, News Page launched, and more!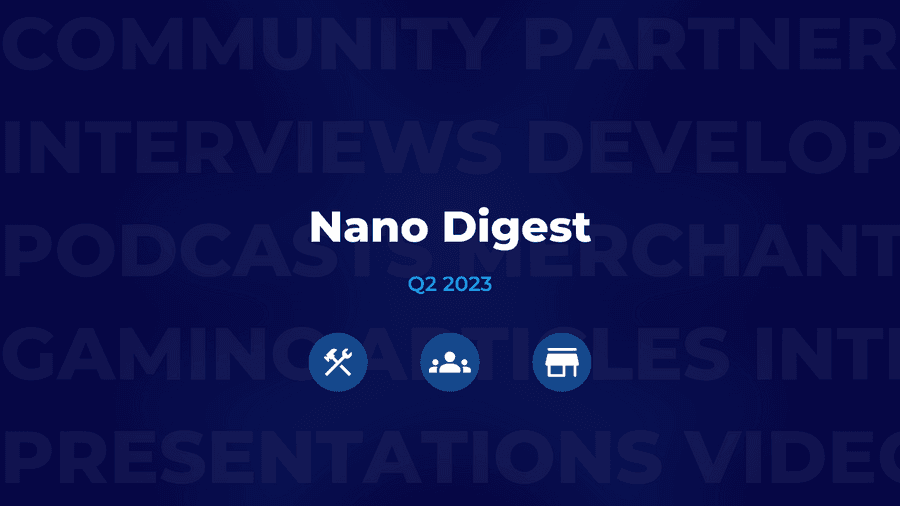 It has been a busy quarter, not just behind the scenes at the Nano Foundation but across the sector and in all our own daily lives with the cost of living crisis expanding making life even more difficult for people globally. We are reminded in times such as these of the importance and need for decentralised digital currencies such as nano and how they could tangibly change the world for the better!

So as usual, ignoring the market-noise - let's dive into the huge amount of updates, news and community actions that are the backbone to the nano ecosystem.


V25 is live!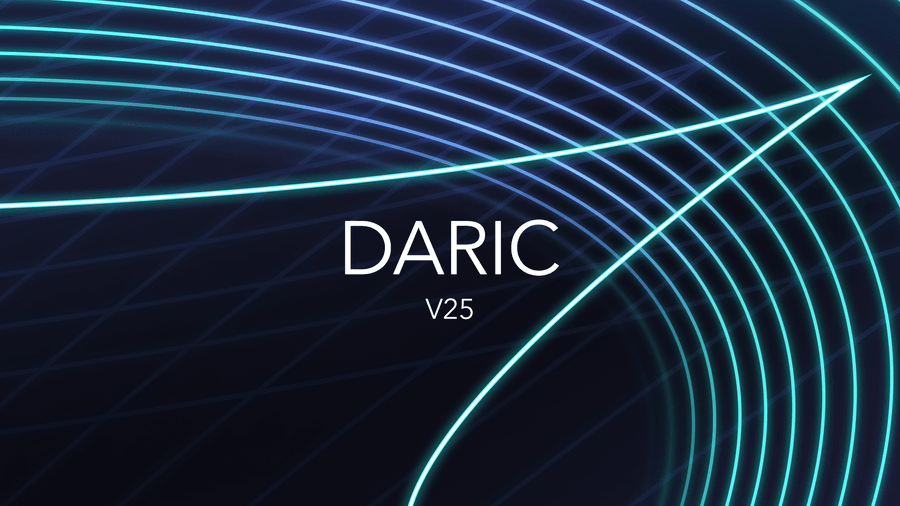 We are very excited to say that V25 Daric is Live! This update complements the earlier released V24 Siglos update and completes this two-pronged update to the nano node software. It includes several great improvements to the node software that increase performance and security. Several changes were made to the nano node software, introducing the Ascending Bootstrapper feature, optimistic elections, continuous backlog population and more. A subsequent V25.1 patch was released not much later fixing a minor RPC call bug.

Read the full article announcing V25 Daric here.


In the graphic above, it is clearly visible that the V25 Daric update has had a significant positive impact on network throughput as quorum was reached. For node operators that have not updated to the latest version V25.1 yet, we strongly recommend all node operators to upgrade.
News Page launched
We are very happy to have yet another dynamic and useful addition to our nano.org website - the News Page! Here, all news around nano can be easily linked and filtered, making it a great way to show the amazing things happening with nano and the Nano Foundation, or for those searching for specific types of news such as events, media or development.
The page also gives you the ability to filter on time frames, making it easy to see what has happened in the past 3 months, past half year, or past year!
Luckily all the items have a shareable icon meaning that it is even easier to share the latest news with your own communities.


Community Programme update and a new NF member
Since launch 2 years ago, the Community Programme has seen more than 20 enthusiastic Ambassadors, Community Managers and Moderators volunteer their time to keeping the nano community channels clear and safe while working tirelessly to grow the community whether through adoption or localised community endeavours.

Having listened to the community over this time and the need for a more interactive programme bridging the gap between the community and the Nano Foundation, we have decided to evolve the programme with some new additions to the team!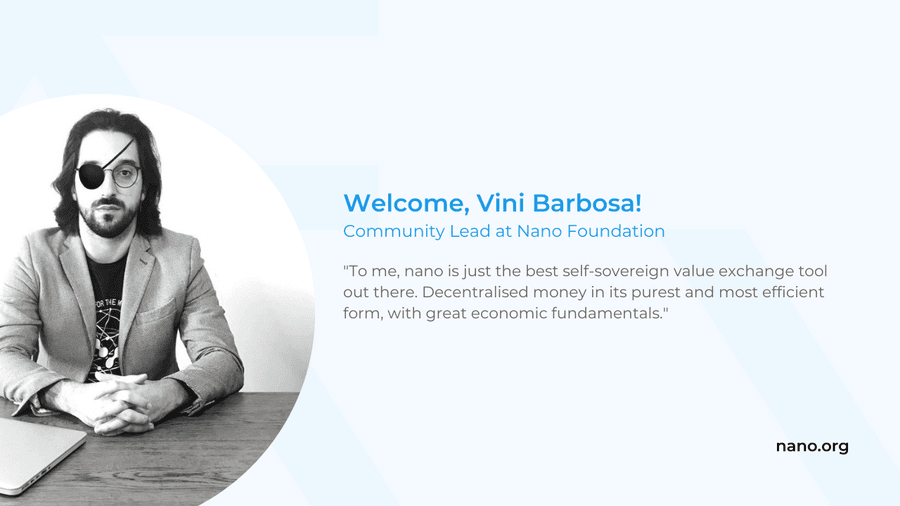 We are overjoyed to announce that Vini Barbosa has joined the team as a volunteer taking the role of Community Lead while Aneena, using her experience having led the programme since inception, moves into creating and building a newly focused Nano University Programme.
The Community Programme
Lead by Vini moving forward, the Community Programme will have two different branches, which we are now calling: 'Presences':
Online Presence, through our Digital Teams and Content Creators;

Local Presence, through Events and Circular Economy Projects.
Ambassadors, Community Managers and Moderators will be able to build their online and local presences, while contributing to the nano ecosystem, education, and adoption; with tasks well aligned to their personal profile and skill sets.
We will have a higher focus on creating nano-based local circular economies in countries, towns, cities, villages, or neighbourhoods. And this will happen through education, workshops, contacting businesses, onboarding users, participating in events, hosting meetups, establishing contact with local press, etc.
The Community Manager (CM) role was also redesigned, after considering the feedback of our CMs, that will have a higher focus on creating and managing action-guided teams for different tasks. More information will be shared in the following days, including a new application form to the Programme.
Talking about feedback, the Community Programme, as long as the Community Lead position, will both aim to have a closer relationship within the nano community. Making sure there is a clear communication line, and a mutually collaborative relationship between action-guided community contributors, and the Nano Foundation.
Having experimented with alternative platforms to house the programme activity, we also have decided to move back to Discord. There so, Ambassadors, Community Managers and Moderators will have private channels to communicate, as long as new exclusive activities such as trainings, workshops, and lectures, aiming to increase their results, while representing the Nano Community worldwide.

The Nano University Programme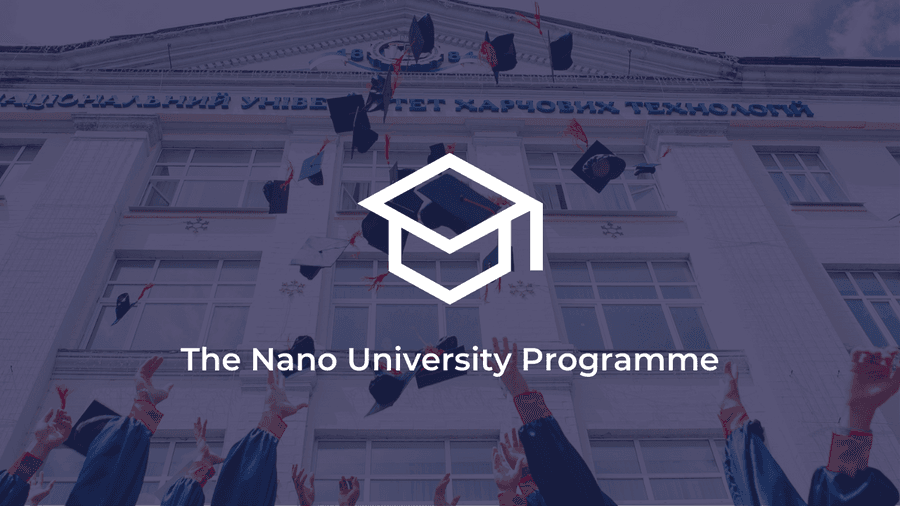 Lead by Aneena, who herself is an Assistant Professor and Academic Researcher outside of her nano life, aims to create through this new programme an inclusive and supportive environment where the academic community can actively participate and contribute to the nano ecosystem. It is an initiative designed to empower students, developers, and researchers to explore, learn, and build on nano.
If you are at all curious to find out more about the two different programmes and would be interested in lending your time, passion or skills to one of them, please get in touch via info@nano.org or send an email to Community Lead Vini Barbosa (vini@nano.org) or to Nano University Programme Lead Aneena Ann (aneena@nano.org)

Besides the Community Programme and University Programme, there are other ways to contribute to the nano ecosystem as well. For instance, you can contribute to our Nano Blog, help develop the nano node software development through C++ contributions and even contribute to the network without knowing C++ at all!


Team Changes
So as you have read above, all very exciting news! Not only are we saying a big warm welcome to Vini joining the Nano Foundation team, we have Aneena moving into the role of Nano University Programme Lead.

We have another change to announce and that is officially saying goodbye to Xavier, our long-standing designer at the Nano Foundation. Xavier stepped away last year due to a family tragedy and while we always have a door open to him to rejoin the team, the time has come to remove him from the website. As most of you are aware, Forest stepped up to the design board to fill this gap and has been evolving our designs ever since.
Partner news
Businesses and organisations embracing nano are continuously progressing. As new partnerships form and more entities integrate nano into their operations, those already on board are refining their integrations and expanding their capabilities. Our partners actively contribute to raising awareness and disseminating information about nano, both within the crypto space and beyond. They are committed to advancing nano's adoption and fostering its growth.


Exchanges & Services Updates
Kraken adds recurring buys with debit cards
The popular crypto exchange Kraken now allows users to perform recurring buys with debit cards. This is a great feature for one of the exchanges with the most nano volume. The feature allows users to automatically buy or sell nano on a daily, weekly or monthly basis.

Improved NOWNodes nano response time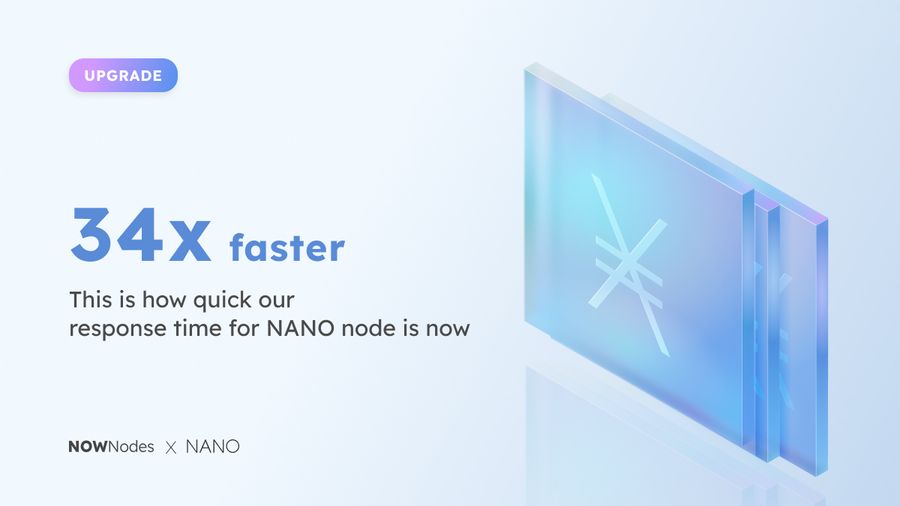 The team over at NOWNodes finished maintenance and their tech team achieved 34 times faster node response time for nano! Even with high-load methods! This means easily interacting with on-chain data of the nano network is not only super easy with NOWNodes, but now also super fast!
NanoBrowserQuest updates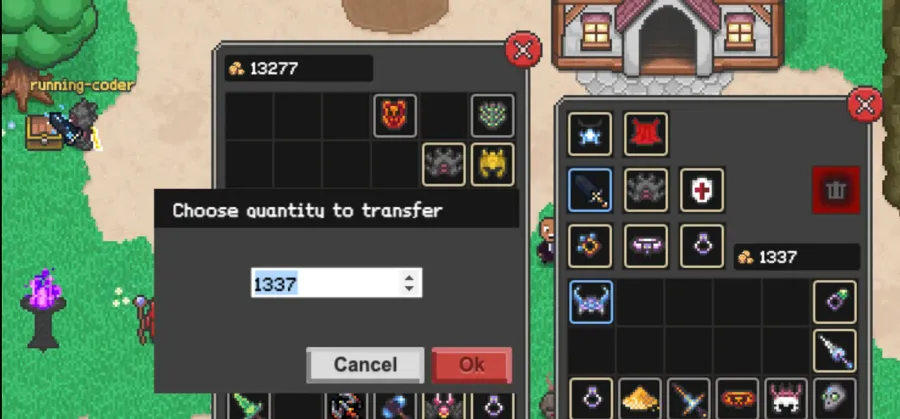 The gold system is now live on NanoBrowserQuest (NBQ)! You can now collect, trade, sell, and buy items for gold. The team at NBQ have also seen a couple of new players grinding the levels and the new items. They are happy to be welcoming even more players with the wallet-less registration (only username & password are now required). More details can be found in this Medium article regarding the updates.


Goleada affiliate program
Goleada, a popular browser-based football management game, offers a 10% share from all auction and ticket purchases made by those registered via your referral link. Instant transfers to your Nano wallet upon every deal.


LetsExchange promo code
Not too long ago, LetsExchange published an article interviewing the Nano Foundation to spread awareness of nano among their users. To keep the cooperation going, LetsExchange published a press release including a promo code, NanoForNature, to celebrate Earth Day! This promo code allowed users to get cashback when exchanging nano on their platform.


Binance removes advanced USD pair trading, adds XNO/USDT pair, and leaves dutch markets
Binance has been undergoing some heavy changes lately, and has unfortunately left the dutch markets. Luckily for the people in the Netherlands, there are many other options out there to exchange nano to euro or between other currencies. You can find all exchanges available on our hub.
Additionally, Binance is pivoting to become more of a crypto-only exchange as most USD pairs are removed and the XNO/USDT pair added instead. Read more about it here.


Nanogram.ai development shelved
Unfortunately, due to budget constraints, the community developer known as nano2dev has indefinitely paused the development of the nano-based social media platform Nanogram.ai. Meanwhile, the developer is working on several other projects such as https://nano.to, https://nault.pro, and https://xno.social.


WeNano & WeNano Business Updates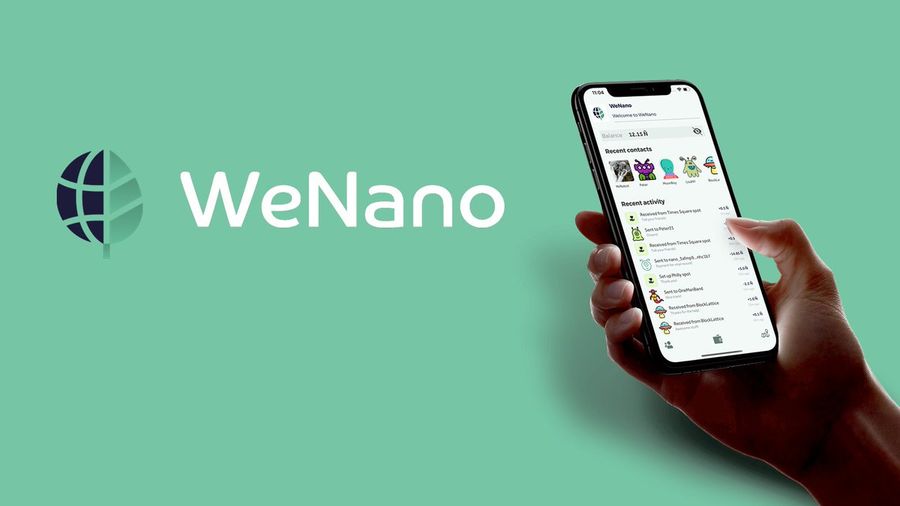 WeNano has recently pushed an update for both WeNano Business and WeNano that mostly focuses on how businesses can promote themselves, receive payments and connect with WeNano users. They have also pushed some minor updates focusing mainly on the map for WeNano. If you zoom out on the map, you will see the most recent new Spots added to the map, and also any Spots that are active/trending right now. They are also working on some other fun new features related to the map and users, but will tell more about that later. With regards to the future, they hope to do some kind of promotions late summer/early autumn to get businesses to sign up and receive nano as payments.

Additionally, they added a new 'raining nano' feature that allows users to donate nano to up to 10 active users!
'If there is a lot of activity within a Spot, you can now rain on up to 10 users that have been active the last hour. If there is more than 10, it will randomly pick 10 out of everyone.
You can now zoom in on any location on the map, and it will tell you if there are any active WeNano users around. It will list users that have opted to sharing their location, and their last activity was within a few days. You can then decide to rain to up to 10 randomly picked users."


SendNano pivoting towards fundraising
SendNano unfortunately has to shut down twitter tipping, however is pivoting to fundraising and has already gathered a bunch of fundraisers on the platform!
https://www.sendnano.com/f/search/


Nano.to features added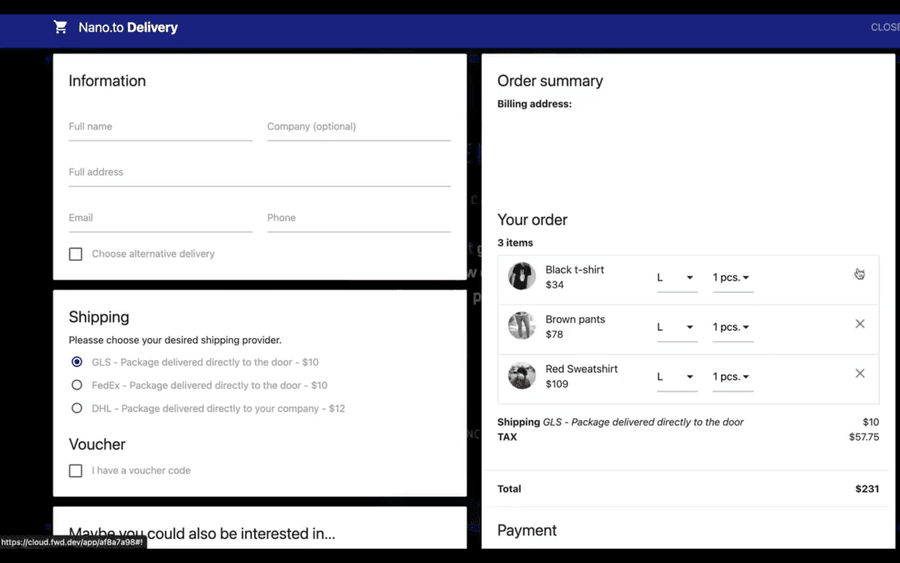 Need an easy way to sell items for nano? But can't find the right way to do so? Nano.to just got more features allowing you to do exactly that! You can now create a shop and sell items using nano.to!
Getnano.csquared.nz faucet shut down
Getnano.csquared.nz faucet is unfortunately shutting down. Luckily there are many other faucets to go to in order to get some free nano! Want to see a full list? We keep track of new faucets popping up at our nano hub! Take a look right here.


Get XNO reaches 1,000 users!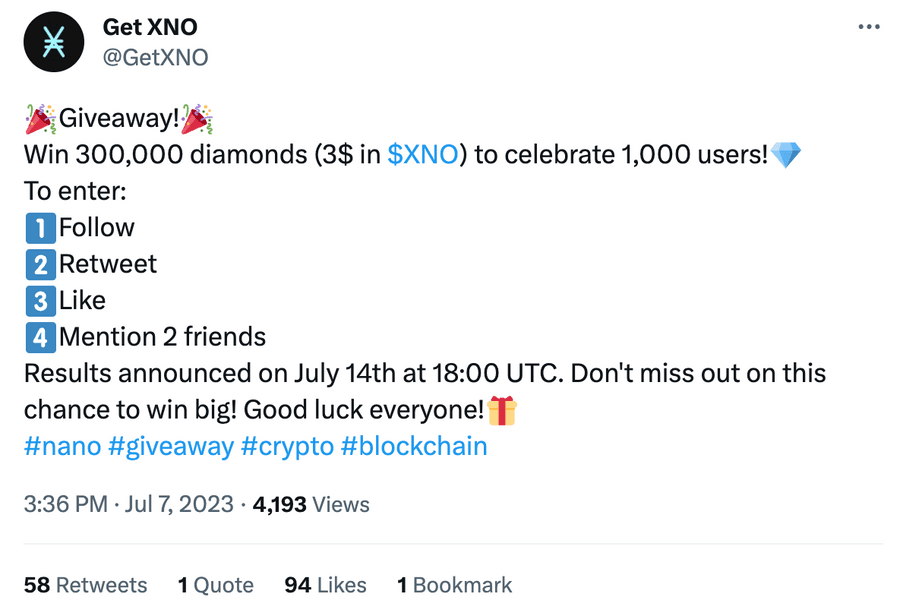 Get XNO reached 1,000 users recently! The website allows users to easily earn nano in various ways, as it functions as a faucet but also lets users perform certain tasks to earn nano.
To celebrate, they hosted a giveaway on twitter!


Nano Donate browser extension update
A minor update has taken place for the Nano Donate browser extension that replaces the old symbol with the new Ӿ symbol in logos and elsewhere throughout the extension. Additionally, nano addresses in the extension now link to the Nanolooker block explorer.
The Nano Donate browser extension makes it easy to donate nano to any participating websites. You can download and install the browser extension here.


Wallet updates
Stack Wallet integration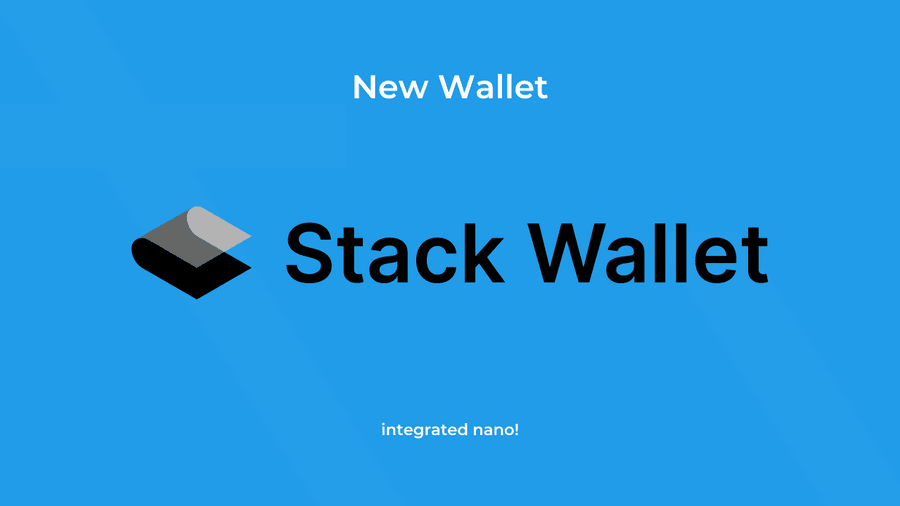 Stack Wallet, a non-custodial and open-source wallet, has now integrated nano! The wallet includes a built-in exchange, is user-friendly, and supports multiple different currencies. Give it a try here!


Nautilus updates
One of the best maintained, feature packed and great wallets in the nano ecosystem is Nautilus. Development of Nautilus, by community developer Matthew Fosse (aka Fossephate), nbever stands still! For instance, Nautilus now allows you to import your 12 word mnemonic phrase from trust wallet! But the improvements don't stop there - Nautilus now also has scheduled payments, subscriptions, payment history, and more! Read more about the latest update here.


Trust Wallet improved integration
It is amazing when partners listen to the nano community. The team at Trust Wallet has listened, and they have now updated their nano integration - sending and receiving nano with Trust Wallet is now smooth as butter! A big thanks to the Trust Wallet team for solving prior issues!
New ways to use nano
Zink Tipping Integration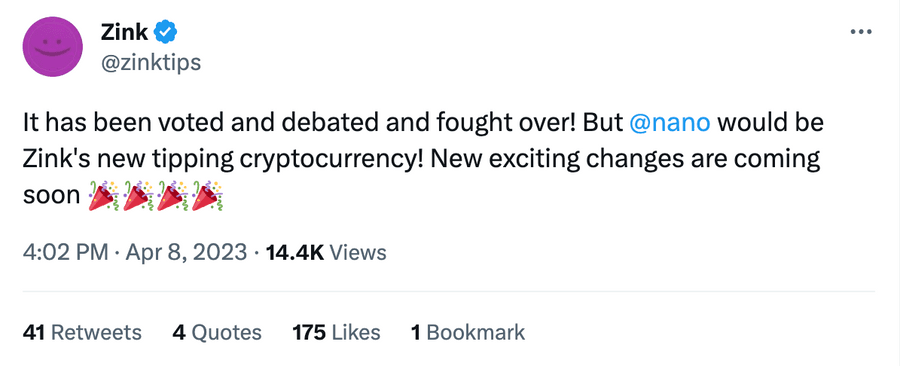 Nano is perfect for tipping - it's fee-free and instant! The folks over at Zink Tips are very aware of this and decided to integrate nano into their platform, allowing people to easily create a tip jar to receive tips, or tip others! The service even has an easy to implement widget for websites and tipping can be done in a single click! Check out the announcement of the integration here or create your own tipjar!
Additionally, Zink Tips hired nano Community Ambassador NanoNerd99 to help grow Zink Tips!
The Zink tipping team even hinted towards a feature to directly tip nano to content creators on twitch!


Earn nano by offering video services, livestreaming, and sharing your world with Perseeve!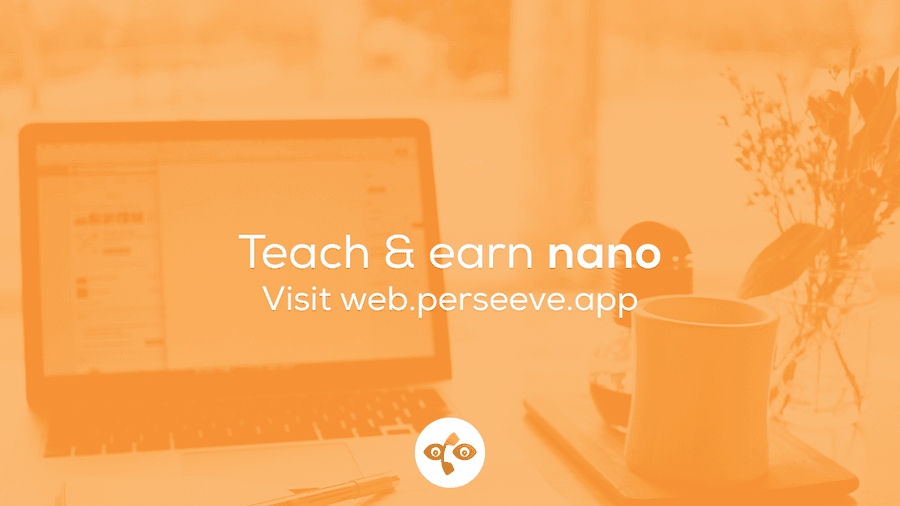 Perseeve is a revolutionary livestreaming app that empowers content creators and service providers to earn nano in real-time while connecting with their audience. It allows livestreamers to monetize their streams on a per-second basis, providing an alternative revenue stream beyond traditional sponsorships or tips.
Additionally, service providers such as teachers, advisors, and consultants can offer their expertise and get paid instantly for their services in nano. Perseeve also allows you to see someone else's perspective, at any location in the world. Whether it's for journalists to see a live feed of a certain event, for people that want to see a holiday destination before they go or if you just want to learn about a different place or meet different people!


Perseeve integrates with nano to facilitate seamless and transparent transactions. Livestreamers, service providers, or those that show their area receive Nano directly from their viewers or clients, without any intermediaries. The app tracks the duration of the stream or service session, and automatically makes payments every few seconds, ensuring fair compensation for every second.
Partner Media
We love it when our partners spread awareness about nano in various media, such as articles and videos! Check out the latest partner media outreaches below.


Swapzone article about nano & gaming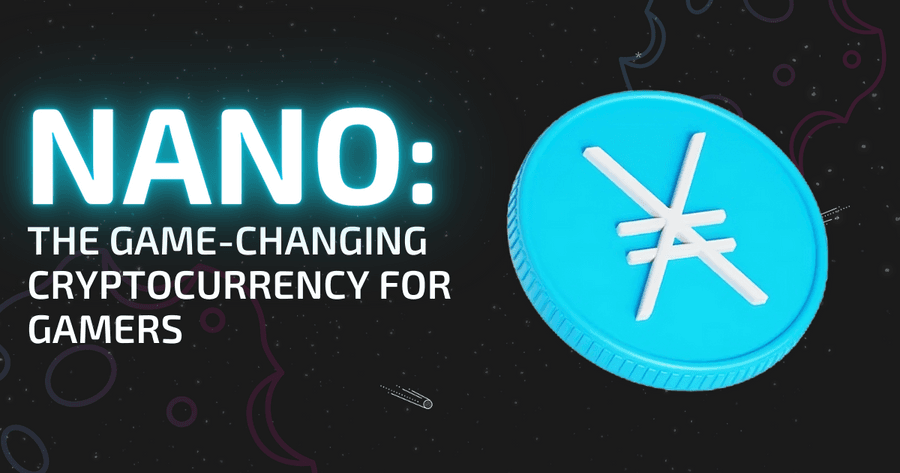 Swapzone.io published an enlightening article on how Nano is revolutionizing the gaming industry. The piece elaborates on nano's potential as a game-changer, highlighting its array of impressive features that offer a seamless and cost-effective solution for gamers and developers. By creating a revolution in the interaction with virtual currencies, nano stands out as an optimal fit for the gaming industry. Check out the full article here.
Why is Nano a Good Sustainable Cryptocurrency?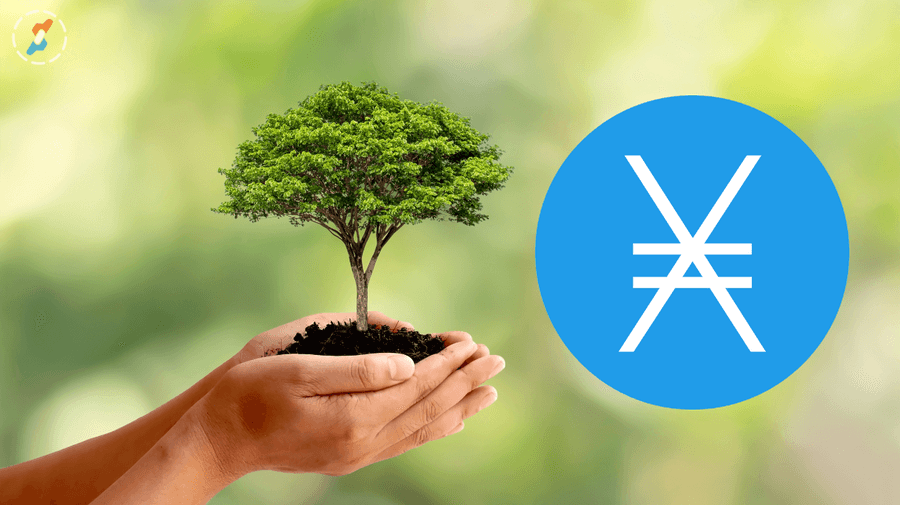 Nano is sustainable and super energy efficient! That's why our partners over at AutoCoinCars wrote this great article explaining why nano is such a good sustainable cryptocurrency. Did you know AutoCoinCars even allows you to buy a sustainable car with that sustainable money?

Read the article written here.


Nano: Empowering Instant, Fee-less Transactions for a Sustainable Future
Our friends over at Guarda Wallet wrote this great article highlighting how nano offers instant, fee-free transactions, the sustainability of nano, usecases and how nano is perfect for non-custodial solutions!

Read the full article here.


LetsExchange article about partnership with nano!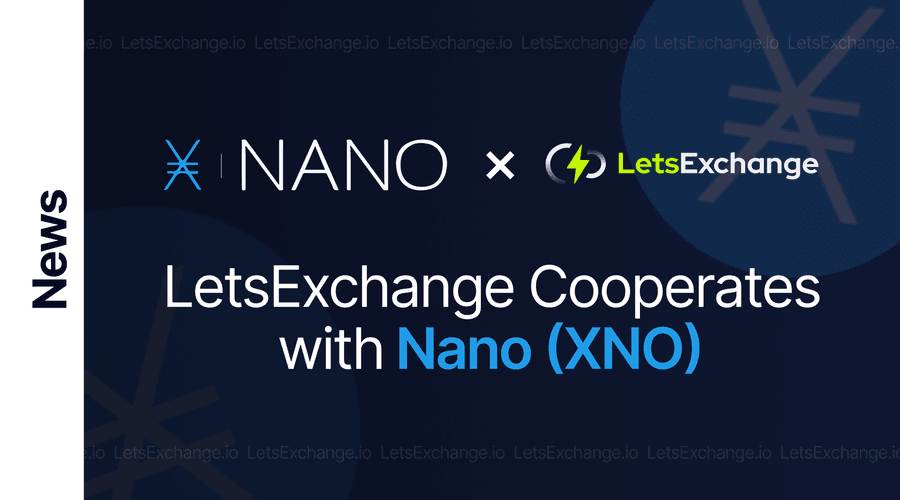 The team at LetsExchange has broadened their cooperation with nano, and even gave the nano community a promotional code 'NanoForNature' for cashback on their platform in the weeks around Earth Day!

"At LetsExchange, we aim to make cryptocurrency swaps available to anyone, anywhere in the world. We support the socially responsible position of Nano to benefit unbanked people in emerging economies by providing fee-free and instantaneous crypto transactions. We believe such an approach will foster the mass adoption of cryptocurrencies, resulting in benefits for crypto users and companies," says Alex J., Chief Product Officer at LetsExchange.


CoinDCX mentions nano among lowest transaction fee crypto
It is amazing to see our friends over at CoinDCX mention nano in their article about the top cryptos with the lowest transaction fees! With nano having no transaction fee at all, it's a must to mention!

"Nano also does not have any transaction charges and facilitates small to large transactions just within a few seconds."
Madora.io gaming showcases
We all know that nano is perfect for gaming, as it is instant, global and fee-free! This makes nano perfect for microtransactions in games, arcade style gaming, and rewards in games. Want a great example? Madora.io showcased the use of nano in the game "Fast & Nano". Check it out right here!


New video from Altcoin Radar
The YouTube channel Altcoin Radar recently published a great video informing people about nano and why it is the best currency for 0 fee transactions! Check it out here.


Stack Wallet interviews Nautilus developer FossePhate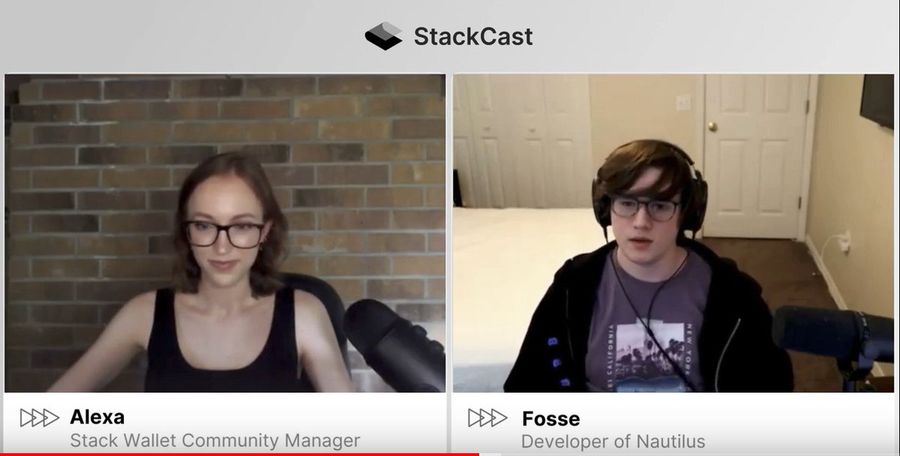 It's always great to see people in the nano community share their enthusiasm and thoughts about nano in the media! The team at StackWallet interviewed developer of Nautilus, Matthew Fosse, about nano and Nautilus for their StackCast show. They discussed how Nano manages network spamming and instant transactions, running nodes for a feeless currency, and more. View the full StackCast interview here.


Events & Media
George Coxon on LinkedIn Live session

On the 25th of May, George Coxon spoke at the University of East London's LinkedIn Live session about the Future of Money: The Rise of Digital Currencies, Opportunities and Risks. The session was full of great discussion with different views and perspectives on cryptocurrencies.
https://www.linkedin.com/events/7064184409721057280/comments/


George Coxon speaking at the UN Summer Academy

George Coxon had the amazing opportunity to speak at the United Nations Summer Academy on the 27th of June! Organised by the United Nations SCC as one of their Trend Talks for 'Navigating a World of Disruption', she led a discussion on 'The intersection of sustainable digital currency & governance: How can we build a more resilient digital economy', what an incredible opportunity for us to bring awareness to the mission we are on with sustainability at its core and put nano in front of the leaders of tomorrow!

Following the event, George recapped: "Really pleased with how yesterday's Trend Talk for the UN Summer Academy went. The audience were national & local government bodies, civil society, academia, as well as private sector sustainability entrepreneurs and organisations such as WWF in addition to UN Staff - everyone was really engaged, asked lots of great questions and then had a flurry of connections post talk wanting to chat further! Thank you all for the well wishes of support!
I have been approached to now to give a similar workshop/talk at the United Nations Office for Disaster Risk Reduction (UNDRR) which I am just over the moon about (and hopefully fully secure) this would be a wonderful showcase of how nano has the potential to be incredibly helpful in crisis and disaster zones in the future."


George Coxon at Reset Connect London


George just keeps going! She also attended the Reset Connect event in London, focused on sustainability and green investments. The aim of her attendance was to catch up with all the developments in the sustainability sector, networking, and meeting some familiar faces!

Reset Connect is the flagship event of the London Climate Action Week, and the UK's largest sustainability ecosystem, green investment event. George even made a short video announcing her attendance here.


Thiago Silva & Vinicius Barbosa presented at the SESCOMP event!
Nano Foundation Developer Thiago Silva & Brazilian Ambassador Vinicius Barbosa presented at the SESCOMP event, Federal University of Ceara - Campus Russas in Brazil!

Nano Foundation Developer Thiago Silva & Brazilian Ambassador Vinícius Barbosa presented online in Portuguese on April 18th at the SESCOMP event, Federal University of Ceara - Campus Russas in Brazil!
They presented on the topic "What is Nano and how to get involved in this live open source lab". Great to see the Nano Foundation & a Community Programme member presenting together!


Twitter Space for Nigerian Business Owners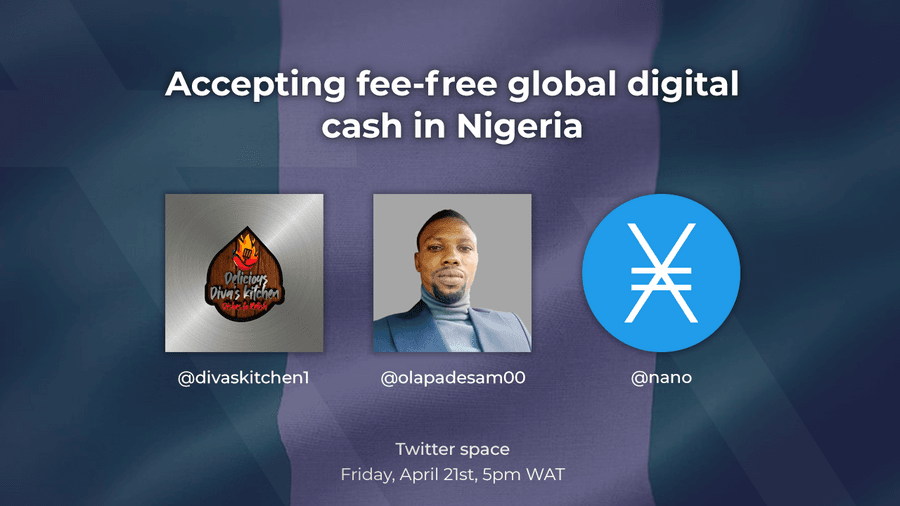 With the growing amount of adoption and awareness of nano in Nigeria, it was time for an awareness session targeted towards small business owners in Nigeria. Twitter Spaces was the perfect place for this as many vendors in Nigeria sell their goods or services on the popular social media platform.
Social Media Lead Forest Horsman spoke with Nigerian Community Ambassador Olapade Samuel and with Abiola, the owner of Diva's Kitchen, about accepting nano in Nigeria for vendors in this twitter space.


Rust Porting updates and livestreams

Gustav Schauwecker, our developer who is working hard on porting the nano node software to the Rust programming language, has been actively doing livestreams on his YouTube and Twitch channels to show people the process of porting different classes to Rust. He has already done a whole series of streams on his development efforts, and he streams every Tuesday at 19.30 UTC - check out his YouTube channel here!

Web3 Berlin event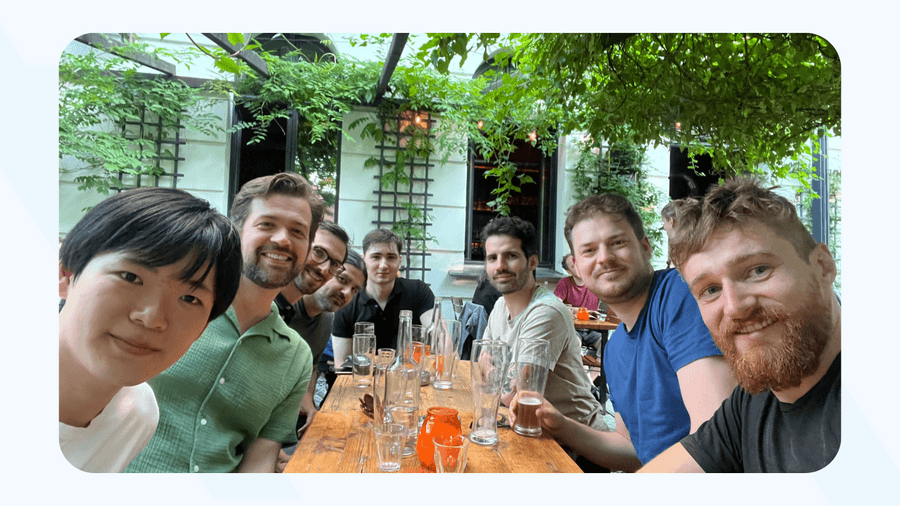 Unfortunately due to unforeseen circumstances, the planned 15min talk at the Web3 Berlin conference had to be cancelled. However, that was not the end of NF in Berlin!

Thankfully, Colin was able to meet up with team members such as Dimitrios, Piotr and Gr0vity and have drinks with the wonderful nano community members and app builders from the ecosystem!
Berlin's Herr Lindemann cocktail bar played host to an exhilarating meetup between the Nano Foundation and passionate members of the Nano community. The evening was full of insightful conversations, as developers delved deep into the latest advancements and future plans.

It's incredible to witness the growing enthusiasm for blockchain solutions. Together, we are driving the evolution of digital currency and building a more inclusive financial future.
Thank you to all who joined us!
Nano in Nigeria
With a lot of activity happening in Nigeria in the past few months, we're excited to spotlight the growth of adoption and awareness about nano in Nigeria. It is great to see the progress of nano adoption and people spreading awareness about nano throughout the country. To clearly highlight the recent activities and initiatives, Pim Coffeng, Growth Strategist at the Nano Foundation, outlined a lot that has happened with nano in Nigeria in his Growth Blog. You can read it here!
Since then, a lot more has happened! Let's dive in together!


FC Espada football match livestream on Perseeve, fundraising, and more!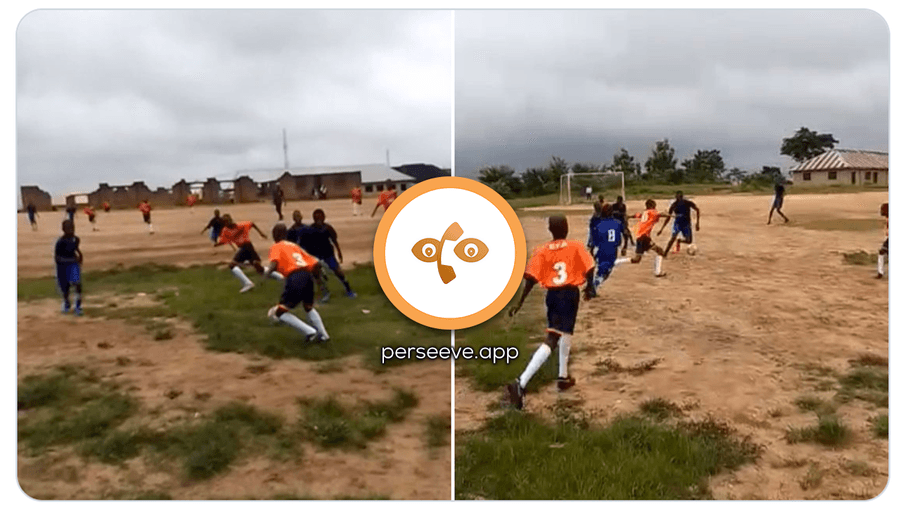 FC Espada is a small local football club in Nigeria. The football club, with players ranging from the age of 8 till 18, is led by coach Bukar Beto Ismail. He first learned about nano through a friend who introduced him, and decided to start a fundraising campaign in order to buy new jerseys, equipment, footballs and more for the kids. Check out the amazing nano-branded jerseys here.
But the coach and FC Espada team did not stop there. The team decided to also participate in the Nano Football Challenge where their 13 year-old star player Adura was able to hold the highscore of 121 bounces for quite a long time! The participation meant another Ӿ70.5 towards their fundraising goals!
The Nigerian football team, FC Espada, also did a livestream on the Perseeve app of one of their matches! Livestreaming on Perseeve was a fun and experimental next step, as this meant that they could earn nano to buy new equipment while they were playing their match, as viewers paid in nano microtransactions for every second of watching! They plan to do more livestreams on Perseeve in the future.
Would you like to learn a bit more about FC Espada? Bukar Beto Ismail, coach of the FC Espada football team, recently recorded a short video talking about the history of FC Espada, the experience so far with the Nano Community and the Nano Football Challenge, and expressing their gratitude towards the nano community for the amazing donations done so far!
It is amazing to see how the football team has been involved with the nano community since this year and were able to buy nano branded shirts, training equipment, and more through the global and fee-free nano donations from people around the world!

You are free to donate to their fundraiser on SendNano here.

Bigeria Pay launched for remittances to Nigeria
Remittances in Nigeria is a huge industry. Yearly, Nigerians send billions of dollars back home! However, there's a high cost to sending money around the globe, and it often takes a lot of time for that money to arrive. Luckily, there's a fast and fee-free solution: nano! With nano, people are able to send money around the globe instantly, for free. That's why one of the major use cases of nano is remittances.
It seems that these remittances have gotten even easier now as people are reporting their experience using Bigeria Pay, a Nigerian service allowing transactions to Nigeria powered by nano with automatic swapping to Naira, which launched recently.


Praiz Ventures now accepts nano


Adoption of nano for payments among vendors in Nigeria is growing steadily as the country goes through heavy times regarding their currency. Whether you need some mobile data, shoes or bags, Praiz Ventures has got you covered. Praiz Ventures, a small business in Nigeria, has now started accepting nano for payments!


Diva's Kitchen organised an Easter initiative to provide food for the homeless in Ibadan, Nigeria!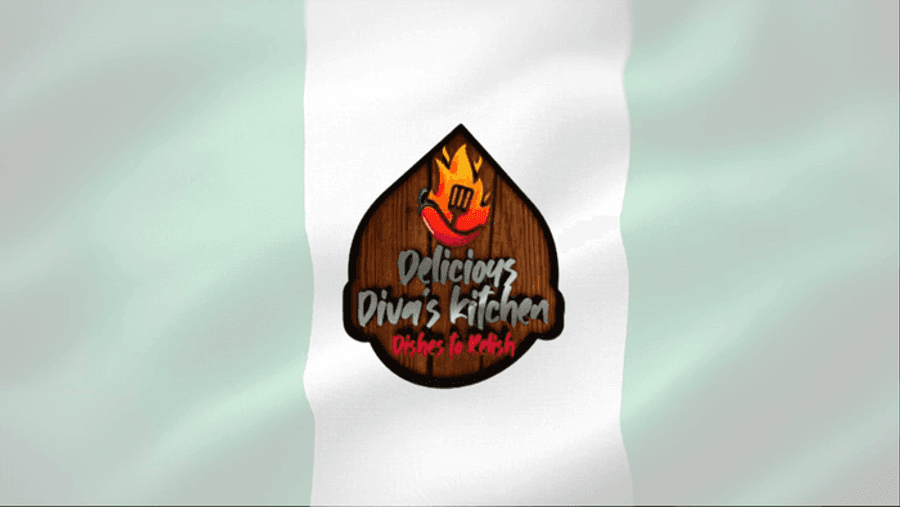 The Nano community showcased the true power of blockchain technology in a heartwarming initiative called #FeedTheStreet. Diva's Kitchen, a food vendor in Ibadan, Nigeria, called upon the Nano community to help provide meals for 300 homeless individuals during the Easter weekend. Through instant and feeless Nano transactions, donors from across the globe contributed generously, surpassing the fundraising target in just one week.
Donations poured in through SendNano and direct wallet transfers, ensuring that every contribution reached Diva's Kitchen without any transaction fees or intermediaries. On Easter Monday, the team prepared and distributed turkey and Jollof rice to over 300 homeless people in Ibadan.
More than 700 nano was donated by people from the nano community around the globe to feed people on the streets.
Read more about the initiative here.


Community Action
Martin Niwamanya launched a nano outreach initiative to universities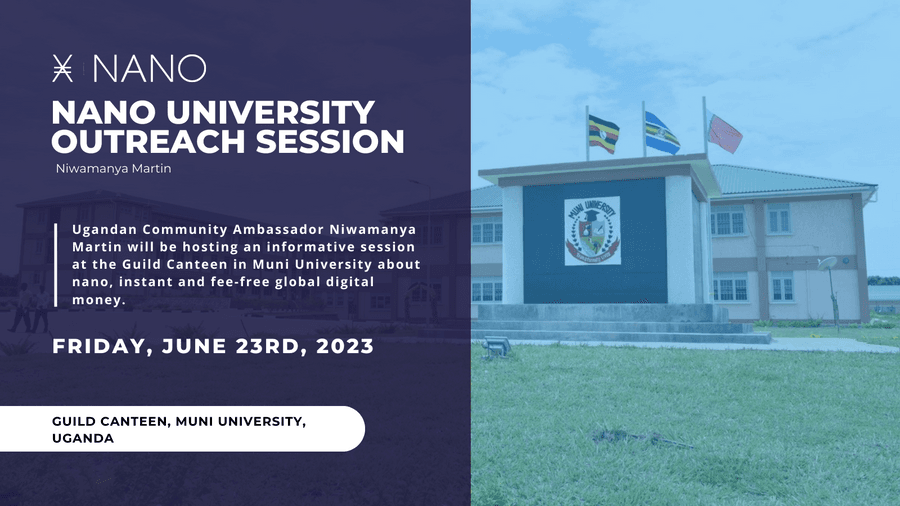 Ugandan Community Ambassador, Niwamanya Martin, launched an outreach initiative to approach universities and inform students about cryptocurrency and nano. He has already presented at Gulu University and Muni University to spread awareness!
"It was an amazing session with Gulu University students where we started with interactive session to speak of their experiences with crypto payments and how to make nano priority as an alternative payment to traditional means.
Based on the issues raised, we started the session with discussing more about blockchain and how it is a base for fundamental change in our society. We discussed how nano would shape the future of the money economy compared to our traditional means.
We also talked of developers opportunities within nano and general blockchain space.
We commissioned the university students as foot soldiers for nano in their communities and where they should advocate for mind set change within their society, peers and general community to see crypto as future for money."
Martin has more university sessions planned for the near future and will be one of the first members of the new and soon to be launched University Programme! If you'd like to support his initiative, you can find his SendNano fundraiser here.


NanoCharts gaming demo
NanoCharts created this demo of gaming with nano, earning nano by collecting rings in Sonic! While this is not a full on game integration, it is a great way to showcase what nano could do for the gaming industry, and the amazing potential for nano when it comes to instant and fee-free microtransactions!
NanoCharts also made a proof of concept nano integration in an Earthworm Jim game. Launch a cow and get some nano!


Video about nano for microtransactions
Microtransactions are an interesting concept where people could for instance pay per page they read instead of immediately buying a whole book. Unfortunately, traditional payment methods and most cryptocurrencies don't work for microtransactions due to high cost of individual transactions, and longer transaction times. This is why so far, microtransactions have had little traction. But that is about to change. Nano has no transaction fees, 30 decimal places, and instant transactions - nano is perfect for microtransactions!
Recently, YouTuber Jay James Invest made a video diving deeper into nano for microtransactions. Check out his video here!


Solar powered nano faucet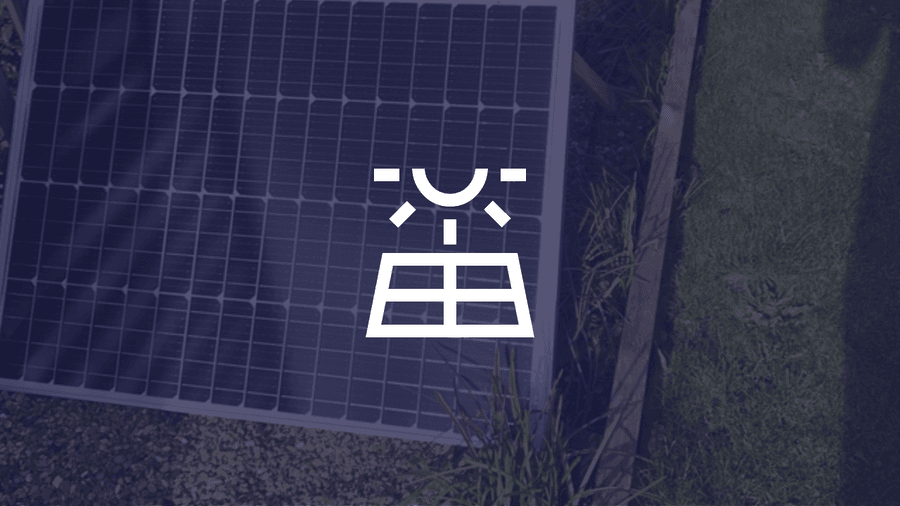 One of the amazing things about nano is its energy-efficiency. Nano is one of the most energy efficient ways to send and receive money globally! But did you know you can even run an entire nano node on solar power? Yes, really! Including generating the needed proof of work for transactions! James Coxon created a solar powered nano faucet using his solar powered nano node, which recently got increased payouts.
Mastodon tipping feature
The landscape of social media is rapidly changing this last year. It's therefore great to see the nano community spread and grow on various platforms, including Mastodon. Even better, nano integrations are spreading to those social media platforms as well! Community Developer Esteban created a nano tipping feature for Mastodon.


Vyanjan QR display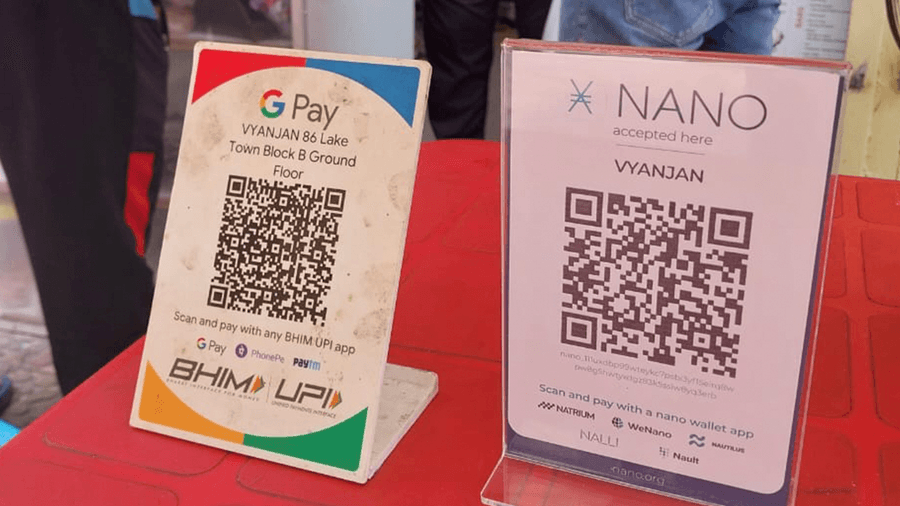 As a business owner selling goods or services for nano in a physical location, it is important to make it as easy as possible for customers to make payments. Avimanyu printed a QR display for Vyanjan, making it easier for people to pay with nano for their food and drinks!


Article translation
Our newly appointed ambassador from Ukraine, Alina Dovzhenko, undertook an impressive feat of language translation, taking an article about the innovative concept of micro-tipping with nano and translating it into Ukrainian. This effort signifies a notable contribution to the global Nano community. With the power of Nano's instant and feeless transactions, the concept of micro-tipping is revolutionizing how we appreciate and reward services and content online. Dovzhenko's translation work is a pivotal step in bridging language barriers and spreading this revolution to Ukrainian speakers. The translated article now enables Ukrainians to grasp the potential of micro-tipping with Nano, opening doors for a new wave of global users. This endeavor highlights the power of the Nano community in fostering international cooperation and knowledge sharing, proving that the Nano revolution knows no borders​.


WeNano Day Initiative
The Nano community, in an effort to showcase the power of blockchain technology and to assist those in need, launched a new community initiative called WeNano Day. Every last Friday of the month, the community creates WeNano Spots in a specific country. These Spots are essentially digital locations where users can collect or distribute nano, the cryptocurrency. The initiative aims to support communities and enhance the distribution of Nano on a global scale. The first WeNano Day took place in Nigeria on the 28th of April 2023. The community created new WeNano Spots and supported existing ones, allowing Nano to be shared and distributed within the country. This initiative, rooted in the power of instant and feeless Nano transactions, facilitates a global outreach, supporting people around the globe while simultaneously spreading awareness about nano's potential. With #WeNanoDay, the nano community strives to make a difference, one spot at a time​​!

Football challenge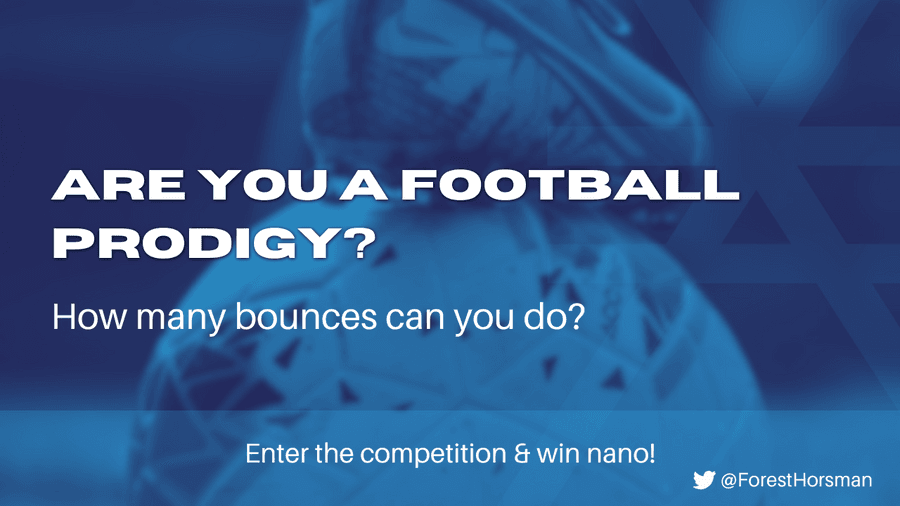 Do you like to play football? Or perhaps you are in contact with your local football club? Well, keep an eye on Social Media Lead Forest Horsman's twitter, as he recently started a football challenge where people could earn nano! The goal was to bounce a ball as many as possible on two feet within 60 seconds, paying out Ӿ0.5 per bounce to the person with the highest score, as well as a random other participant in the challenge. People could donate extra nano to a pot for the person with the highest score.
Forest Horsman's nano football challenge came to an end with twitter user @wilding_within getting the highscore of 168 bounces, and winning a final 99 nano! The Nigerian football team FC Espada also earned 70.5 nano from the challenge, with their 13 year old player Adura bouncing 121 times in 60 seconds!


Amazing new SendNano fundraising initiatives
Since SendNano had to pivot their use case after recent twitter API changes, the focus on fundraising has been very successful, with many fundraisers popping up on the website! You can check out all the fundraisers on SendNano here.
Nano Foundation further notices
Forum Deprecation & Instagram archived
In the previous Nano Digest, we announced that the forum will be deprecated and its functionality replaced by Github.
In the theme of efficiency, we also decided to archive our Instagram profile for the time being. Besides trading and investing focused content, which isn't what we create, Instagram doesn't have a large (crypto)currency audience and we therefore decide that our time and effort can be better aimed towards other social media platforms.


Trustable notice from Colin and George
It is with great disappointment that Trustable as an entity is in the process of being dissolved due to a multitude of factors, not least the unclear and risky regulatory space that Trustable would reside in.
Trustable was a separate endeavour individually taken on by Colin and George to integrate nano into the banking space.
We will continue to develop the nano protocol as we have though we will refocus expansion efforts toward facilitating partners who already have a foothold in this space.
We continue to believe connecting nano with the banking system is the next logical step toward further adoption of nano and working with our partners who are doing just this will be the best way forward.
Keep reading on our nano blog
How Diva's Kitchen used nano to feed over 300 homeless people in Nigeria

Vini's unbanking journey part 4
This month in RsNano: May 2023
Introducing the first solar-powered nano node
Exploring Decentralized Science with a nano: a new perspective
Growth Blog: How Nigeria is voluntarily adopting nano.
This Month in RsNano: May 2023


Other articles
https://www.linkedin.com/pulse/hi-my-name-chris-i-work-crypto-christopher-unwin%3FtrackingId=%252FsRktkN8SseYw8eK5tJGeA%253D%253D/?trackingId=%2FsRktkN8SseYw8eK5tJGeA%3D%3D
https://beincrypto.com/learn/eco-friendly-cryptocurrencies/?utm_source=twitter&utm_medium=URL&utm_campaign=learn&utm_id=EN
https://www.thebulletintime.com/trend/nano-a-fast-and-feeless-cryptocurrency-for-instant-payments/
https://blueandgreentomorrow.com/features/addressing-pressing-ethical-concerns-with-crypto-exchanges/
https://www.publish0x.com/daolabs-the-evolution-of-social-media/sharing-becomes-mining-a-new-way-of-making-money-on-social-m-xkpomnk
https://hackernoon.com/the-role-of-cryptocurrencies-in-e-commerce-and-digital-payments-a-revolution-in-progress
https://tradewise.community/nano-nano-review-instant-feeless-green-digital-money/ https://www.finextra.com/blogposting/24034/fintech-operations-going-green-five-trends-shaping-the-financial-landscape-in-2023
https://t2conline.com/top-5-cryptocurrencies-with-the-highest-transaction-speeds/
https://crowdwisdom.live/crypto/environmental-impact-of-cryptocurrencies/
https://www.publish0x.com/inf1n17y-about-crypto/say-goodbye-to-cash-and-bank-transfers-with-nano-xpzgprz
https://www.cryptopolitan.com/how-top-10-eco-friendly-cryptocurrencies/
---
Nano Foundation does not endorse or approve products and/or services used or developed by third parties. Any links to third party software or sites are for informational purposes only. Nano Foundation bears no responsibility for the operability, accuracy, legality or content of third party products and/or services. Any questions regarding third party material should be directed to that party.
---
Nano Foundation does not endorse or approve products and/or services used or developed by third parties. Any links to third party software or sites are for informational purposes only. Nano Foundation bears no responsibility for the operability, accuracy, legality or content of third party products and/or services. Any questions regarding third party material should be directed to that party.