How Diva's Kitchen used nano to feed over 300 homeless people in Nigeria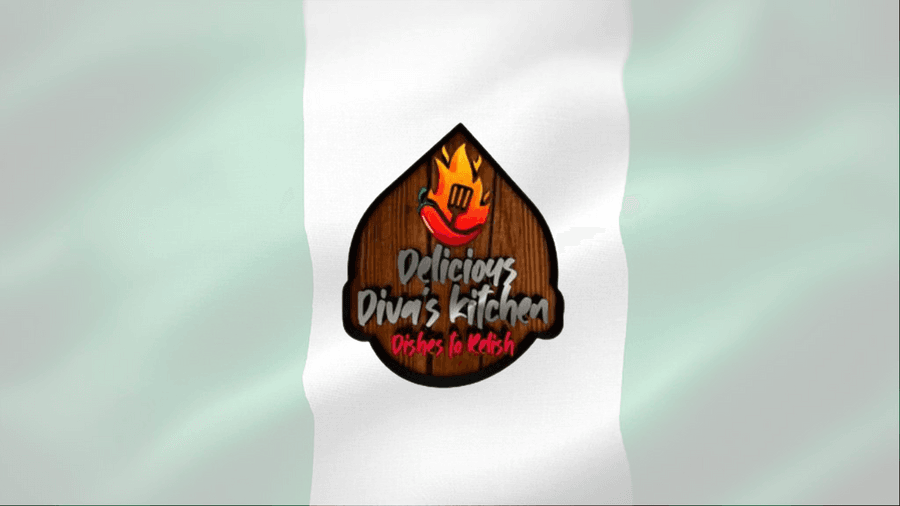 Amidst the seemingly endless negative news stories around cryptocurrency, it's more important than ever to celebrate the incredible ways blockchain technology can make a positive difference to the world.
As ever, the nano community is leading the way.
At the start of April, Diva's Kitchen, a home-cooked food vendor in Ibadan, Nigeria, put out a call to the nano community. Their plan was to provide food for 300 homeless people on Easter weekend as part of the #FeedTheStreet Ibadan campaign: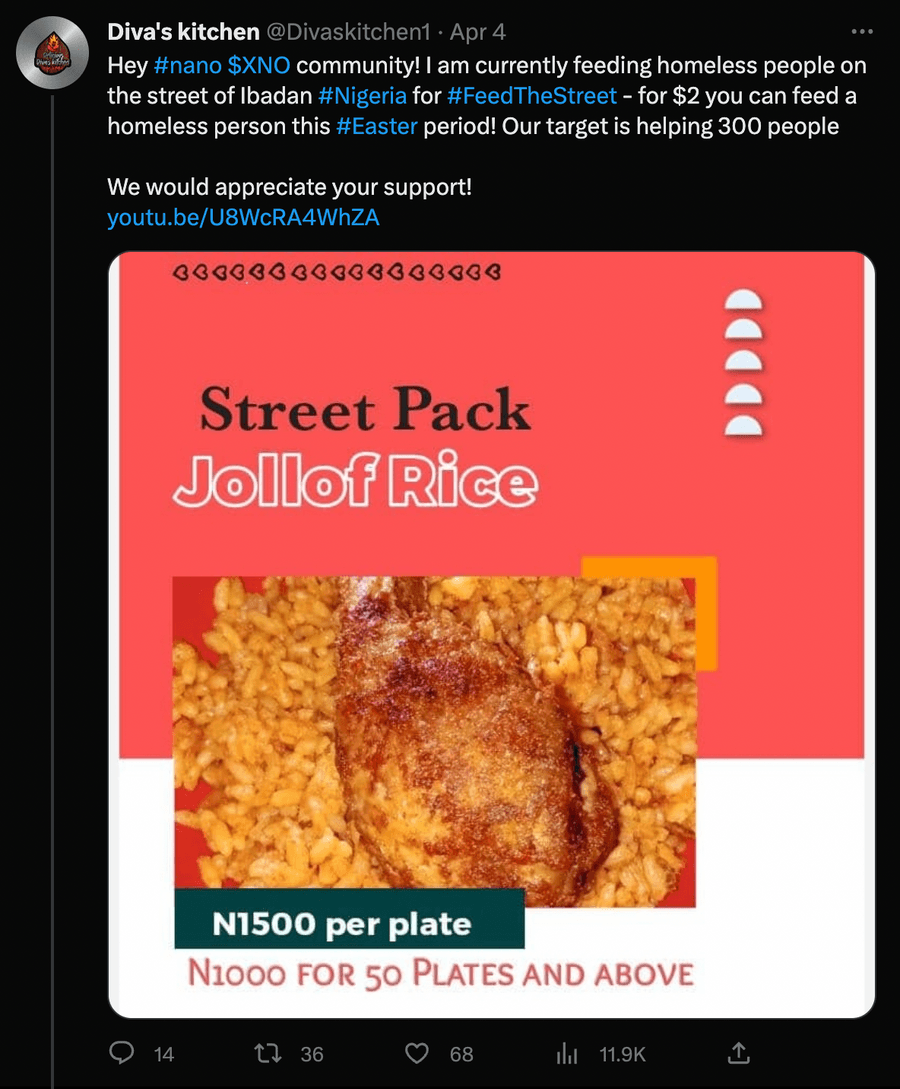 Using nano, people could donate instantly from anywhere in the world, directly to the Diva's Kitchen Twitter address using SendNano or send money to their wallet address. Of course, taking donations in nano meant Diva's Kitchen would receive the full value of everything sent, with zero fees at either end.
The response was incredible. Donations flooded in from across the globe and on 9th April, Diva's Kitchen announced they had exceeded their target.
On Easter Monday, they prepared turkey and Jollof rice and distributed everything directly to over 300 homeless people in Ibadan.
The significance of this initiative shouldn't be understated. Within one week of announcing their intentions, Diva's Kitchen was able to raise funds through a global fundraiser on Twitter, spend the nano on ingredients at Yelam Food Market, feed over 300 homeless people and publish a video on YouTube as feedback for the donors. Not a single penny was spent on transaction fees or taken by third parties.
This is the power of nano. It can provide funding through donations from around the world, for free, in an instant. It can cross borders frictionlessly, reaching wherever it needs to go quickly and in many cases, for free. You can read more about how to accept worldwide donations for free with nano.
Abiola, owner of Diva's Kitchen, plans to do more events like #FeedTheStreet soon:
"My next project is for school children, it's called Back To School project. I do it every August, it entails the provision of school bags, books and other educational materials to indigent children to encourage them in their educational pursuit. I do all this every year, I also hold a Christmas party for children as well as street feeding."
George Coxon, Director of the Nano Foundation, said:
"This is what nano was made for - a global community coming together to help others. I am very proud to be a part of this movement. Thank you to everyone who donated and helped out and to Diva's kitchen for a brilliant initiative".
What feels so exciting is that as awareness and adoption of nano grows, its influence only gets stronger. Diva's Kitchen fed 300 people with funding from the nano community in less than a week. Imagine what we can achieve when the community grows to ten times its current size.
The number of places in which nano can be spent is growing and so is the opportunity for people in Nigeria to obtain the currency. For instance, right now through the mobile app WeNano (Play Store, App Store), there are currently around 200 physical places in Nigeria where people can claim nano and connect to the network.
We are still so early in the journey towards seeing nano used widely as a truly global currency. Nevertheless, initiatives such as #FeedTheStreet take us one step closer to that goal, and offer a timely reminder that blockchain technology really can make the world a better place.
Want to learn more about nano in Nigeria? Check out: How Samuel uses nano to support orphanages in Lagos, Why Nigeria will be the first voluntary adopter of cryptocurrency and How people become increasingly aware of nano.
---
Nano Foundation does not endorse or approve products and/or services used or developed by third parties. Any links to third party software or sites are for informational purposes only. Nano Foundation bears no responsibility for the operability, accuracy, legality or content of third party products and/or services. Any questions regarding third party material should be directed to that party.